Frotcom Route Scheduler is here to dramatically streamline dispatching operations and save money
Last month at CeBIT, Germany, Frotcom took the opportunity to premiere its new route-planning and optimization module -  Frotcom Scheduler.
Frotcom Scheduler is an integrated route-planning software module developed to optimize companies' route assignment to vehicles, minimizing mileage and fuel-related costs, at the same time increasing customer satisfaction by complying with delivery/visit time windows.  
Optimize route assignment to vehicles

Minimize mileage and fuel-related costs

Comply to delivery/visit time windows

Increase customer satisfaction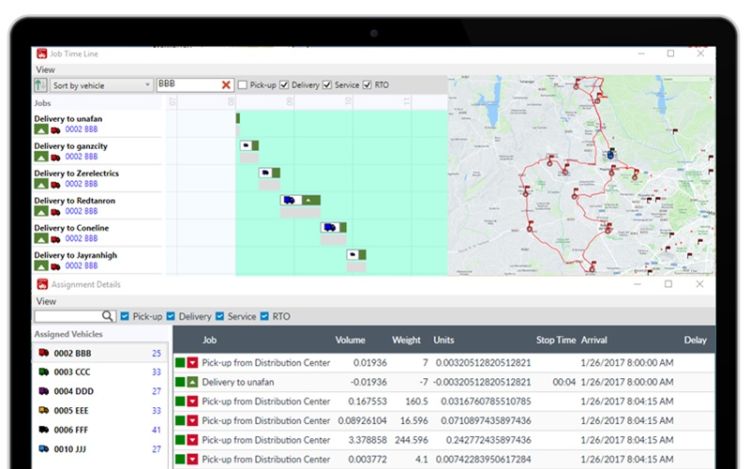 Best possible assignment of jobs generated by Frotcom Scheduler
Frotcom Scheduler allows you to assign jobs automatically to vehicles considering many different factors such as vehicle capacity, time windows to visit each place, incompatible loads that cannot be mixed, driving time limitations, road restrictions on heavy vehicles and several other conditions.
It is a highly customizable solution with a user-friendly interface, based on best-in-class routing algorithms (1). Frotcom Scheduler generates plans that can be assigned to vehicles and followed up in Frotcom interface, which will enable your company to cut down fuel costs and time wastage, while selecting the most appropriate available vehicles from your roster.
Throughout these 20 years, Frotcom is providing tools to manage any fleet, from vehicle tracking to fleet intelligence. Frotcom Scheduler is another step in Fleet Intelligence from Frotcom!
___________________
(1) See for example Battiti, R., M Brunato e F. Mascia (2010), "Reactive Search and Intelligent Optimization", Springer Science+Business Media, LLC; and Schorpp, Steffen (2011), "Dynamic Fleet Management for International Truck Transportation", Gabler Verlag, Wiesbaden.
Post tags:
Frotcom
Intelligent fleets
Fleet management
Vehicle tracking
Increase customer satisfaction
Optimize route assignment
Minimize mileage
Minimize fuel-related costs
Comply to delivery time windows
Frotcom Scheduler