Intelligent fleet management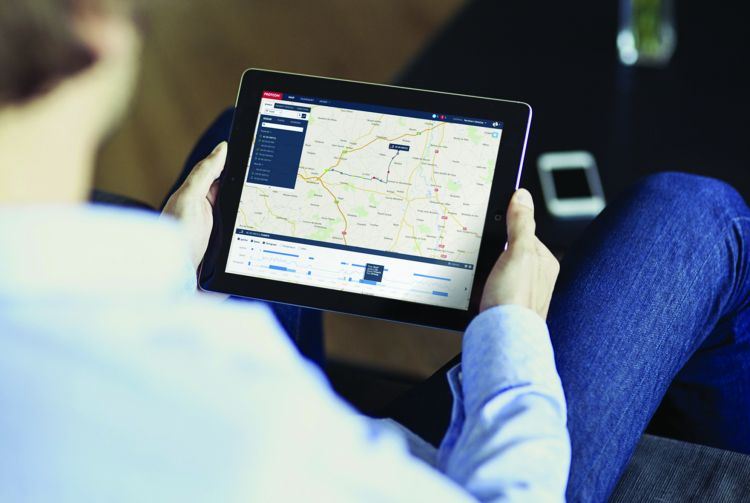 Frotcom is a modular solution, distributed in Portugal by Frotcom Lusitana, containing the tools every fleet manager needs to efficiently manage their vehicles: GPS tracking for vehicles and trailers; reports and alarms; cost management; route planning and monitoring; driver identification and behavior; remote tachograph download; temperature control; fuel management; and workforce management, among others.
According to Gonçalo Serafim, General Manager of Frotcom Lusitana, the "solution is 100% focused on the professional management of road fleets. Everything we do is aimed at helping fleet managers. That is why, these days, Frotcom is a solution that covers nearly every fleet management need, with an extensive set of tools. In addition, we are present in more than 40 countries, offering a solution used by more than 15,000 professionals, which shows the degree of satisfaction achieved both by companies with small fleets and companies with more than 3,000 vehicles."
What is Frotcom's concept of an intelligent fleet?
Frotcom has been developing tools to make traffic and fleet manager tasks even easier while automating tasks that do not require human involvement, thereby freeing managers for activities that add more value. A classic example of this is the remote tachograph download, which is done automatically at exact intervals to ensure compliance with legislation. Manual data downloading – which requires someone to be available and is always subject to errors when manual downloads cannot be done while the vehicles are in the fleet – no longer needs to be planned and executed. Another example is the route planning module, which takes individual driving times into account, thus helping traffic managers to predict the arrival times at loading or unloading points, minimizing errors, and increasing customer satisfaction. Practically speaking, an intelligent fleet uses a significant set of automated tools, freeing up human resources for other tasks.
At what point does a company need a fleet management platform?
We have customers with one vehicle and others with more than 3,000. They all take advantage of Frotcom, albeit in different ways. Therefore, there is no definitive starting number where the management platform is needed. What we can say, in the specific case of heavy fleets, is that it becomes practically impossible to control the operating costs of a fleet of 10 or more vehicles without a tool such as Frotcom. The return on investment is immediate and easy to see, even when looking at fuel costs alone. If we consider that a truck can easily spend €5,000 per month in diesel fuel and that at least 5% in savings can be achieved using Frotcom, the monthly savings is €250 per vehicle.
How can Frotcom help in business development?
One of the biggest difficulties transport companies face during a growth phase is scaling their operations. In other words, how to properly coordinate teams of drivers and traffic managers – not to mention human resources management and accounting – when the company is growing. Frotcom gives all company stakeholders a common platform, where everyone has access to information on vehicle location, mileage, drivers associated with each trip, etc. This is the only way to ensure, for example, that traffic managers get the most out of their fleet without having to operate in information "silos" where each one only works with "their own" drivers.
How does a platform like this contribute to more sustainable professional mobility?
Frotcom reduces CO2 emissions in three different ways: (a) lowering the number of kilometers traveled by fleet vehicles through route optimization and by choosing available vehicles closest to loading points; (b) improving driving performance by monitoring and automatically classifying various driving parameters, thereby reducing consumption and CO2 emissions; (c) streamlining fleet electrification, since Frotcom is prepared to read electric vehicle parameters, providing, for example, information on each vehicle's battery charge and range in kilometers.
What advice would you give your customers for more efficient fleet management?
It is essential to first deploy the system internally before installing the technology in vehicles. The fleet's needs and the problems it faces, and how a fleet management system can help should be explained to the team. The technology should also be demystified, and any concerns raised by employees should be addressed. In the next adoption phase, it must be used systematically and not just sporadically to fully capitalize on the solution. This means clearly defining the tasks expected from each employee about the system. Finally, according to Gonçalo Serafim, General Manager of Frotcom Lusitana, the approach to analyzing driving performance should include periodic sessions with drivers, showing what can be improved and how. Ideally, awards should be given to drivers with the best performance.
What was the pandemic's impact on the business, and how did things go in 2021?
From an economic standpoint, the pandemic did not have the impact we feared. In fact, we can say that 2020 and 2021 ended up being good sales years for Frotcom - not just in Portugal - but in the vast majority of markets where we are present. It must be said that, among the various economic activities, the logistics sector was one of the least directly impacted the pandemic, unlike catering and tourism, for example. Since the Frotcom system is mainly used by freight and distribution companies, the impact on our business was indeed quite low.
What new features are planned for this fleet management solution in 2022?
Frotcom has an R&D team that is constantly expanding the solution, releasing around 20 new features per year. For example, one new upcoming feature is a driver coaching module providing an in-depth driving analysis during any given trip, with telemetry data updated every second. In this way, trainers can see in detail, in real-time or for past trips, whether the driver is making the best use of the truck's engine and mechanics, making it easier to troubleshoot inefficient driving and unnecessary fuel costs. This development is part of a roadmap of launches to address customer requests and strengthen Frotcom's leadership position in the fleet management sector in the more than 40 markets where it is present.
By Marketeer Magazine