Phanos N. Epiphaniou Public Ltd (EPIPHANIOU) makes significant savings with Frotcom
EPIPHANIOU, the leading supplier of a comprehensive range of materials, including building construction materials and machinery, adopted Frotcom vehicle tracking and fleet management system to control their fleet and reduce fuel costs.

It all started with an automotive exhibition, where Mr. Alex Baker, Fleet Manager, and Mr. Petros Kerkides, Logistics Manager at EPIPHANIOU, had the first contact with Frotcom. "Once we saw the demo, we realized how easy it is to use Frotcom and the amount of information provided by the system that can really help us to control our fleet", said Mr. Alex Baker.

After a meeting and a trial period, in which Frotcom proved to be the solution to their fuel management and vehicle maintenance program needs, the solution was installed in all their vehicles.

Working all over Cyprus through a network of stores, distribution centres and warehouses, the company's fleet is responsible for delivering their products to customers.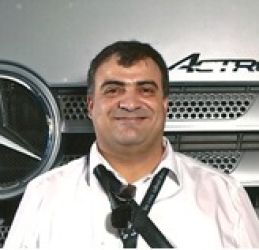 Mr. Petros Kerkides, Logistics Manager at EPIPHANIOU
According to Mr. Petros Kerkides, Logistics Manager at EPIPHANIOU, "we are very pleased with Frotcom; the continuous upgrades of the system and the technical notes provided by Frotcom, are very helpful. Let me highlight that our main objectives were to control vehicle movements, reduce fuel costs and ensure timely fleet maintenance. But we have much more with Frotcom, like, for instance, full control of our fleet's costs". 

He also stated that "other modules in Frotcom are helping us to improve driving behaviour and to choose the best routes for our deliveries and monitor routes execution. With Frotcom, and other improvements made in our company, we have already saved up to 35% in fuel costs."