The International Criminal Tribunal for Rwanda (ICTR) is using Frotcom
The International Criminal Tribunal for Rwanda (ICTR) was created in 1994 by resolution of the Security Council of the United Nations, after the recognition that serious violations of humanitarian law were being committed in Rwanda.
The purpose of this measure was to contribute to the process of national reconciliation in Rwanda and to the maintenance of peace in the region.
The ICTR's jurisdiction includes crimes of genocide, crimes against humanity, and violations of Article 3 common to the Geneva Conventions, committed in 1994.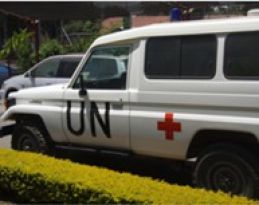 Located in Arusha, in neighboring Tanzania, the ICTR includes staff from more than 80 nationalities.
Activities and events of this Tribunal cut across the whole region of East Africa. Most of this movement is done by road and a bigger section of the fleet has been always on the run. Under these circumstances, there was the need to have a reliable control of the fleet so as to deliver the busy schedule of the Tribunal.
Elaborate fleet surveillance features defined the tracking product that the Tribunal needed and led to selecting Frotcom out of a number of other service providers who had expressed interest in providing the system.
ICTR's Chief of Transport
was quick to mention that "
for the few weeks the Frotcom system has been on board, there was enough justification for the spending that was allocated for this cause
."