BLE ID sensor and BLE receiver
Automatically connect a vehicle to an asset
Frotcom Bulgaria offers you the opportunity to optimize your processes by replacing the manual connection of vehicles and assets; trailers, containers, etc., with an automatic connection.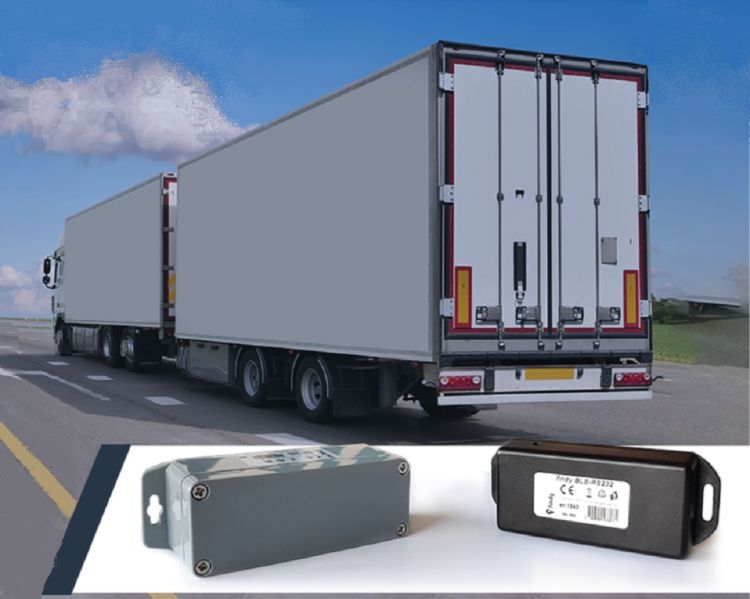 You have a fleet of vehicles and trailers and you want to know when and where they are connected? 
Frotcom offers you the opportunity to have this information in real-time when a connection has taken place between a vehicle and a trailer.
 
НOW WE HELP
 
With real-time up-to-date information, you can plan efficiently the tasks and routes of your vehicles.
Sensor-equipped assets feed data wirelessly to receivers that are installed in vehicles. From there, via the GPS device, the current information about the connection is submitted to Frotcom's data processing center and is available to users.
Thus, everyone in the company has up-to-date information at their disposal about which vehicle is connected to which trailer or another asset. This happens automatically, without the need for manual intervention by the driver or someone in the back office, or if the change is made in or outside of business hours during day or night-time.
With up-to-date information, operational officers – dispatchers, forwarders, etc., can carry out the task planning process for drivers and vehicles accurately and easily. This leads to time savings because there will be no need for conversations between the drivers and the back office to provide up-to-date information about the connection. Additionally, potential errors are avoided by sending a vehicle without a trailer, or with an inappropriate trailer to perform a task.
All of this increases employees' effectiveness, as the information they have is always up-to-date without creating additional tasks. Also avoiding costs related to kilometers traveled by vehicles to perform tasks with incorrect trailers and other assets.
In addition, if you pay toll charges via Frotcom in different countries this functionality eliminates the need to manually change the current number of axles of the connections by drivers.
BENEFITS
Automation of processes
 
No need for drivers to manually enter or modify vehicle data;
All employees involved in the planning and distribution of tasks on vehicles will work with available and up-to-date information 24/7. 
Information
 
Get real-time information about vehicles, assets, and connections;
You know exactly where each asset is.
Minimize costs
 
There is no need for unnecessary communication between drivers and the back office, which costs time and money;
You can rely on up-to-date information about connections, which eliminates the error of sending a vehicle with an incorrect asset to perform a particular task;
Reduces risk of loss or theft.
Security
 
The received information is generated and visualized automatically, making it more reliable;
Minimize the risk of losing an asset.
HOW IT WORKS
First of all, the vehicle must be equipped with a Frotcom GPS device that has a free serial port (RS232).
The GPS device is connected to a Wireless BLE (Bluetooth Low Energy) receiver to accept data from  BLE sensors installed in the company's assets. BLE sensors wirelessly send data at a predefined time interval with the current information about the asset – unique number, on the go or not, battery level, and signal strength.
All this data is accepted by the receiver closest to the sensor and transmitted to Frotcom's data processing center, where powerful algorithms process and analyze them,  to take account of the connection and separation between a vehicle and an asset.
After reporting a change in connection, the information is visualized for users in the system.  Each change is marked with a date, time, and location. The information is visible, both on a map* and in a tabular report**, reflecting any changes in the connections of a particular vehicle or asset for a selected period of time.
Sensors can be installed on any type of assets – trailers, containers, special equipment, etc. When installing the sensors, there is no need for electricity in the assets, as they have their own battery and are autonomous. The battery life is about 24 months (depending on its external and operating conditions), and after it is exhausted the battery can be replaced.
REQUIREMENTS
To automatically connect a vehicle to a real-time asset, you need to:
 
Have a Frotcom MAX or Frotcom Max lite device installed;
Have a BLE receiver installed in each vehicle;
 Have a BLE sensor installed in each asset.
Start connecting your vehicles and assets automatically