Passenger Land Transportation
The Namibian passenger transport company uses Frotcom's fleet management system to reduce fuel costs and mitigate risks.

Known as "Emangweni Transport", Rundu Bus Service founded in 1994 has been specializing in staff transportation for the past five years. Nowadays, they employ 4 buses dedicated to staff transport mainly in Rundu, the Okavango region, Windhoek, and the Khomas region of Namibia, transporting more than 500 commuters a day.

After being contacted by a Frotcom sales representative, Abraham Nkomo, Branch Administrator of Rundu Bus Service, went through the demonstration process and selected Frotcom's fleet management system due to its ease-of-use and accurate tracking capabilities.


Passenger Land Transportation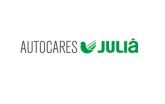 Spain's Autocares Julià had a smooth transition into Frotcom's fleet management solution, improving overall efficiency and without upsetting its business processes.

Part of the Julià Group, Cataluña-born Autocares Julià is today a leading passenger transportation company, catering to intercity, interstate, and interurban bus lines. The company serves travel agencies, tour operators, schools, conference organizers, businesses, and individual customers throughout Spain, and in recent years has seen its business expand across four continents.
Client Goals and Challenges