The most intelligent solutions for professional fleet management in 2021
Dragan Kostovsky, CEO at Frotcom North Macedonia, tells us about his experience in the Transport and Logistics sector and how he has been managing his business, dedicated to Frotcom Fleet Management software, through the Covid-19 crisis.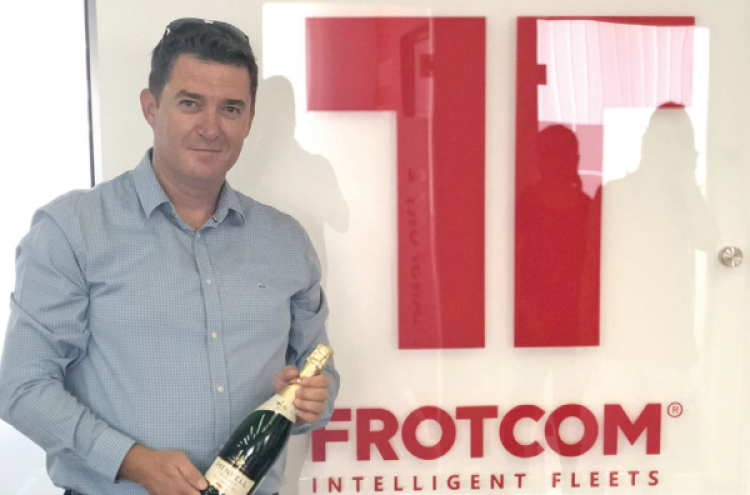 What is Frotcom and how does it work in North Macedonia?
Frotcom is an Intelligent Vehicle Tracking and Fleet Management system that helps companies save money by controlling their fleet's activities, thereby reducing costs, increasing productivity, improving safety and customer service, enabling risk mitigation, and extending vehicle life expectancy.
Frotcom is developed by Frotcom International, a global provider of vehicle tracking systems since 1997. It is used by thousands of companies in more than 30 countries worldwide. The solution has been adopted by both small and large fleets with more than one thousand vehicles, performing in different industries, such as global Freight Transports and Logistics, Distribution, Postal and couriers, Passenger transportation, Manufacturing/Engineering, Car rental, etc. The main features include GPS tracking, sensor control, driving behavior, route planning, and monitoring, fuel management, and fleet intelligence, among others.
 
Frotcom is present in the North Macedonian market since 2010 through Frotcom Macedonia (LKV KOSTOVSKI), the exclusive distributor of Frotcom Software for the country. Our company offers a complete Fleet Telematics service package, including installation, training, and support for all types of company fleets – cars, vans, trucks, buses, heavy construction machinery, and agricultural machinery. With hard work and a dedicated team, we have earned significant experience through the years and we're celebrating ten years of success in North Macedonia this year!
What sets Frotcom apart from other systems?
First, Frotcom is 100% about Fleet Management and focused on company fleets. We have gathered many years of experience and know precisely the needs of fleet managers.
 
Second, we do not compromise on quality; we all know that cheap and reliable are not synonyms; our customers need to rely completely on a solid fleet management solution.
And finally, we are continuously committed to ensuring an excellent service to customers, providing them with the tools they need to manage their fleet, from vehicle tracking to true fleet intelligence, whatever the industry they work in. Highly demanded Frotcom features from companies in North Macedonia that not all competitors can supply are:
 
Remote tachograph download;
Automatic driver identification using tachograph driver cards;
Fuel level sensor to monitor the fuel level inside the vehicle's gas tank;
CANBus interface to extract meaningful information from the electric circuit of trucks, such as real-time online information about fuel level in the tank, fuel variation, AdBlue level, PTO (Power take-off), weight, engine speed (RPM), engine coolant temperature, and tachograph driver states. For vehicles with digital tachographs, information includes drive, work, and rest states, as well as warnings when the maximum driving time allowed by law is reached;
Remote cargo temperature monitoring with the ability to interface directly to trailer temperature data loggers;
Integration with ELB Lock system to remotely lock or unlock the door of Schmitz trailers;
Driving behavior analysis;
Fleet alarms with the ability to set up Severity Levels;
Fleet automatic reports sent by email.
How did the Covid-19 pandemic affect the business in this sector?
As with most companies, the pandemic has left its mark on our sector too. For several months we had reduced equipment sales, more companies were operating at reduced capacity and there were shutoffs of vehicles indefinitely. However, we know that the transport continued to run smoothly, but with small delays at the borders. The losses in our sector were not drastic, but in the first months of this pandemic, the reduction in our business was around 10-15 %. The importance is that in our company for all this time of turbulence, there were no layoffs and pay cuts.
As a manager, have you been forced to make drastic decisions in dealing with the crisis caused by the pandemic?
Naturally, the health of our employees is the most important. We took all the measures given by the Ministry of Health. All office rooms were disinfected and the employees worked from home for 2 months. We are currently following government recommendations and using masks and disinfectants in the workplace. There are two employees in each office, one of whom always wears a mask. As long as the pandemic lasts, any groupings are prohibited during working hours.
In such times, it is necessary for businesses to adapt to changes in new, inventive ways. Have any new opportunities for Frotcom appeared on the market?
As the pandemic continues and the trend for online meetings increases, we started with online training sessions of our clients every Wednesday at 14:30h. In these sessions we want to help our clients to understand the system in the easiest way, showing them the crucial features available in Frotcom, and provide them a quick way to talk and ask us about any option available in Frotcom that could help them at this moment. We are promoting the online training in our social networks and clients are getting more into it, as they recognize the positive effects of the solution that we are offering them, and the ability to communicate with our support team and learn something new about the Frotcom system. All interested clients can schedule a training session at the following email addresses: support@mk.frotcom.com or marketing@mk.frotcom.com.
 
In addition to the online customer training held once a week with our experienced staff, we have also increased our team for technical support and after-sales customer care for even faster and better service for our customers.
What are the challenges and what is the company's vision for the next, 2021? 
For the next 2021 first of all, I would like all of us to stay in good health, including our employees and customers as well.
Regardless of the difficulties we had in 2020, and which we would all like to forget as soon as possible, Frotcom continues to upgrade its system, as part of Frotcom technical team works on innovations to help and facilitate our customers with the challenges they face during their daily work. As before, in 2020 Frotcom updated the system every 3 months with new improved services and solutions.
Next year, in the first quarter of 2021, a new application for smartphones will be launched, for both Android and IOS. It will be the third application that will be operational for our customers, with far more options and improved technical capabilities. New integrations with external parties will also be provided during next year, and we are embracing the New Year fully committed to providing the most intelligent solutions for professional fleet management to companies in North Macedonia.