Frotcom exhibits fleet management system at Gala Tranzit 2018
The awards ceremony for the most efficient carriers and logistics companies in Romania is organized every year by Tranzit magazine. Throughout the prestige event, Frotcom showcased the features and benefits of our fleet management system.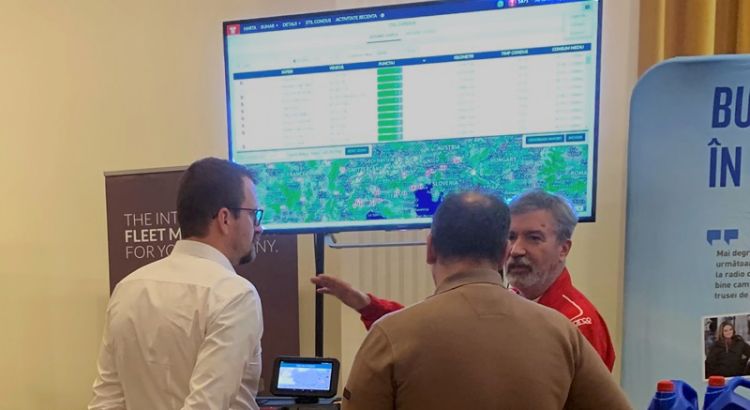 Gala Tranzit 2018 took place on November 1st and 2nd, in Cluj-Napoca - Romania – attended by over 800 professionals from the transport and logistics industry.
Exhibitors from 36 companies showcased their products and services. Frotcom Romania took the opportunity to impress would-be customers with our cutting-edge innovations and developments, like the fuel filler cap and Mobile Workforce Management module integrated with Garmin Fleet.
Besides the celebrations and awards for the most efficient transport and logistics companies in Romania, the Gala pre-conference is an opportunity to present and discuss the financial situation in the Romanian transport market (volumes, profitability, etc.), the market forecasts for the next year and the main opportunities for growth, as well as potential watch-outs for the future.
"We're extremely pleased to be invited to this Gala. Particularly for the opportunity to talk directly with the distinguished guests and benefit from the subsequent word of mouth. The Gala is a chance to engage in discussions and get important negotiations underway with the representatives of large companies and sizeable fleets", said Ciprian Ionescu, Managing Director of Frotcom Romania.
He concluded by saying that "We were extremely happy to hear, from the guests who tried our demo, that Frotcom is superior to other fleet management systems. Our user-friendly software and the features presented, certainly kept the attention of the delegates."
If you missed us at this event, contact us now to find out more about the benefits of Frotcom.
Post tags:
Fleet management system
Frotcom
Fleet management software
GPS tracking system
Frotcom Romania
Mobile workforce management
Garmin Fleet
Gala Tranzit
Features
Frotcom benefits