Frotcom exhibited at the 13th Annual Erongo Business and Tourism Expo
Frotcom highlighted its advanced fleet management features during the exhibition at Walvis Bay in Namibia.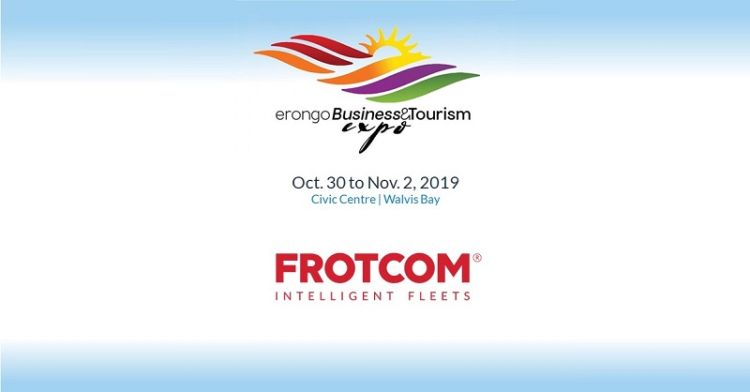 The exhibition took place from October 30th to November 2nd, where Frotcom exhibited its advanced GPS Vehicle Tracking and Fleet Management solution. 
As part of this, Frotcom presented its all-in-one
Fuel management
feature that measures, protects and provides fuel level control for different types of vehicles. Frotcom also displayed its
Fleet Cost Management
module that allows you to register and control the vehicles' costs in an integrated and convenient way.
The event was hugely successful. Frotcom was introduced alongside potential clients at the expo, while Frotcom representatives highlighted the practical aspects of the features and solutions presented. Attendees could see first-hand, the benefits of the Frotcom system, such as enabling better checks on vehicle assignment, loaning and location; providing robust data for operating budgets and planning, and more accurate fuel expenditure control.
Importantly, the team also displayed the safety record improvement on Namibia's accident-prone roads and the security and vehicle protection, allowing accurate reporting to authorities (for instance, in the event of theft or carjacking.) This is made possible by the innovative technology behind Frotcom.
Hiskia Nangolo, CEO of Frotcom Namibia
, said "
We are happy to be able to exhibit our leading GPS Vehicle Tracking and Fleet Management solution at this important industrial event. Namibia Taxi association, mining industry, Construction industry, and Courier services enabled Frotcom Namibia to demonstrate its latest innovations, products, solutions, and services. In particular, it was an opportunity to highlight the time and cost-efficiency benefits of the Fuel management and Fleet Cost Management modules. It was a pleasure to show delegates how Frotcom powers smarter, more productive ways of working
."  
If you missed us at this event, you can
contact us
now to find out more about the benefits of Frotcom.  
Post tags:
Erongo Business and Tourism Expo
GPS vehicle tracking
Fleet management
Fuel management
Fleet cost management