Keeping drivers healthy on the frontline against COVID-19
With the Coronavirus spreading worldwide and forcing everyone to stay home, demand for consumables and essential items increases, and the road transport industry steps up to keep drivers healthy.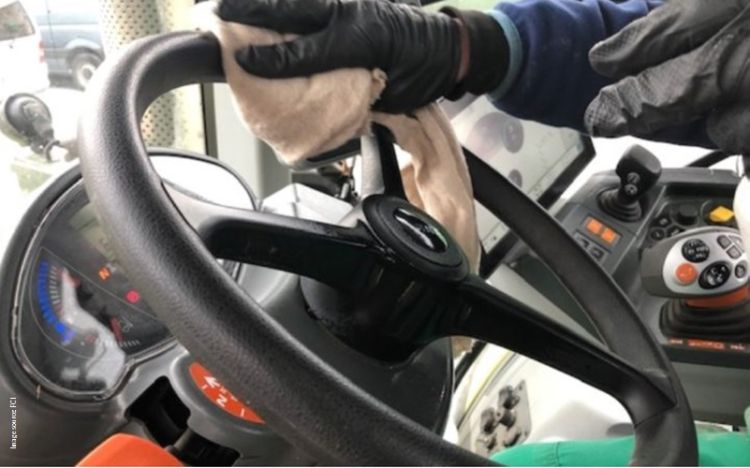 The first quarter of 2020 was marked by what will be considered the moment that changed everyone's life. Due to the Coronavirus pandemic, a state of emergency was declared in countries all over the world, and people were forced to stay at home; but not everyone.
The road transport industry found itself in a position where the movement of essential goods and the way those items are handled, had the power to help contain or accelerate the virus. For all road transport drivers, they needed to be equipped with enough information and knowledge to keep themselves and others safe.
At the beginning of March, businesses started to feel the real impact of the virus as the number of cases and deaths dramatically increased across Europe and the US. With many cities either already in or preparing for lockdown, panic buying and stockpiling became common, resulting in an unprecedented demand for some consumer items. Fleet managers took care to monitor the situation daily and keep drivers informed of the changing landscape. The same fleet managers had to move fast and provide drivers with daily news, tips, and reminders relating to staying safe through frequent handwashing, social distancing, and staying in their truck as much as possible during their long trips. Operating businesses tried to educate drivers the best they could on being safe by implementing higher driver health and safety standards for loading and unloading goods (mainly in quarantine areas), and concerning the carriage of documents to demonstrate compliance with health rules. As also recommended by IRU (International Road Transport Union), companies ensured traceability in recording and maintaining driver and worker movements.
It was, and still is, important drivers know how to maintain the highest levels of protection, especially while loading and unloading essential freight (particularly in quarantine areas).  
Recognize the symptoms
The WHO (World Health Organization) classifies COVID-19 as a respiratory disease spread through droplets and lists the most common symptoms as:
fever
tiredness
dry cough
Companies provided the necessary information, based on
WHO advises
, to let drivers know what to look out for. If they did show symptoms, they were advised they should not to go to work, self-isolate to reduce the spread of the illness, and immediately contact their medical provider or a COVID-19 information line for advice on testing and referral.  
Good hygiene and social etiquette
As the virus has an oil-based enzyme, soap and warm water successfully removes it. It was recommended that drivers wash hands regularly for at least 20 seconds and regularly clean and disinfect trucks to remove any traces of the virus from surfaces. If soap and water were not available, it was recommended that hand sanitizing lotions and fluids with at least 60% alcohol should be used. Fleet managers also provided drivers with gloves and sanitizing gels to be kept in vehicle cabs, but also cleaning products for cabs. Steering wheels, door handles, tablets, and mobile phones are areas of high use and can get very dirty, so they should be cleaned regularly and thoroughly.  
Healthy Game Plans
With the health and safety of drivers a top priority, some companies created healthy game plans to raise driver awareness in terms of enhanced personal and situational hygiene.  Game plans shared helpful information and top tips, including reminders around hygiene and handwashing through posters, notices, and in-cab telematics updates.
Drivers were also made aware of the importance of social distancing, making sure to avoid getting too close to others when stopped at gas stations, picking up food and when loading/unloading freight.  
Adopt a healthy lifestyle
To keep a strong immune system, organizations also communicated healthy lifestyle tips to drivers to maintain good personal health through healthy eating, regular breaks, staying hydrated, and taking regular exercise. Many organizations provided drivers with bottled water to ensure hydration.
Smoking has been identified as a risk factor in the pandemic, so making drivers aware of the overall dangers of smoking as well as the specific risks associated with the virus was also provided.
Road transport companies played a part in ensuring driver safety by providing knowledge and support in terms of communication of COVID-19 information, latest news, and around general health and wellbeing of drivers. These measures are supporting a crucial workforce and the organizations they work for at this difficult time.
Post tags:
COVID-19
Truck drivers
Fleet drivers
Road transport
Frotcom