Frotcom premium partnership with Sixfold* brings new benefits to both platforms users
Frotcom established a premium partnership with the real-time visibility platform Sixfold to provide customers with an easier and quicker carrier onboarding.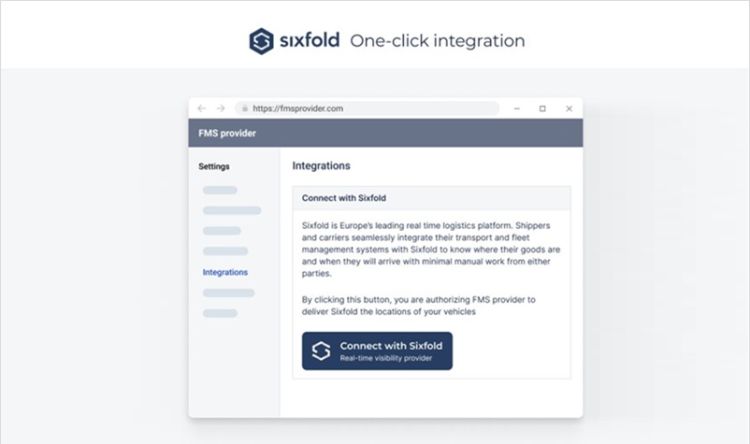 Sixfold allows shippers and carriers to easily integrate their transport management systems with its platform.
As more and more carriers join the platform, Sixfold developed and introduced a one-click integration solution to simplify the onboarding process. This enables its joint carriers to easily connect to the platform within minutes, considerably speeding up the standard procedure, which could take days.
As a Premium Partner, Frotcom has a natively supported integration with Sixfold, allowing fleet managers to know where shippers and carriers shipments are and when they will arrive, with minimal manual work.
Regarding this integration with Sixfold, the CEO of Frotcom International, Valério Marques, said: "Implementing Sixfold's one-click solution was a strategic move for us, allowing us to onboard our customers in the easiest and quickest way. Real-time visibility is key to keeping up with today's fast-paced logistics industry – this is a true benefit to our customers and working with Sixfold positions us a front-runner in the future of real-time visibility technology."
Sixfold's one-click solution is automatic and does not require any extra input from carriers, since they only have to connect their fleet management system once by using their own account, similar to the "Login with Google" or "Login with Facebook" approach, avoiding excessive support requests regarding invalid user settings.
"With Frotcom, we can welcome a great partner in our Premium Telematics Partner Program. Carriers using Frotcom's innovative telematics solution can now connect to Sixfold, the biggest real-time execution platform, with only one-click in a fully automated process. This eliminates manual setup efforts for Frotcom as well as for Sixfold, and we can focus on providing and extending our high-class real-time visibility solution to our customers", said Florian Ransmayr, Integration & Partner Manager of Sixfold.
Discover more about the external systems already integrated with Frotcom or contact a member of our team for more information regarding Frotcom's integration with Sixfold.
*Sixfold is now Transporeon Visibility Hub.
Post tags:
Frotcom
Sixfold
API integration
Software integration
Fleet management software
Third Party Software
Increase productivity
Onboarding process