Reduce your fleet costs with route planning and monitoring
Discover how to achieve cost reduction and route planning with a fleet management system.
Route planning is one of the most important tasks of a fleet manager as it is directly related to the fleet's productivity and efficiency.
A well-planned route needs to ensure several variables such as the shortest possible route or that all customers receive their goods at the specified time. On the other hand, a poorly defined route means traveling unnecessary kilometers to perform fewer tasks, increased fuel consumption, and vehicle wear. Therefore, it is increasingly important to ensure that each of these variables is optimized so that the route represents the best possible operational scenario.
As a fleet manager, it is crucial to improve fleet management practices to reduce costs and make fleets more efficient and organized. Route planning and monitoring is often the answer to achieving these goals.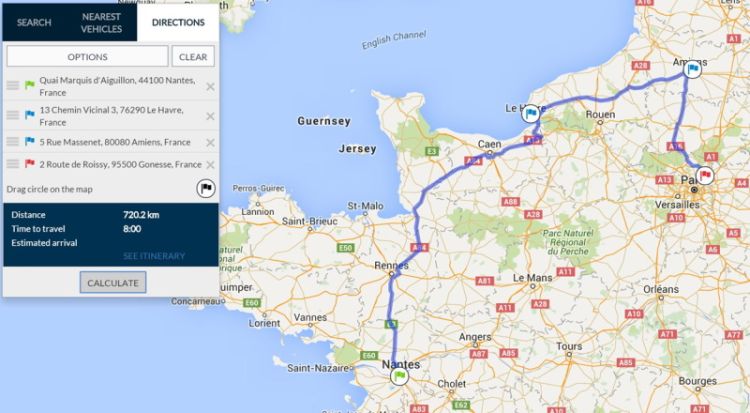 Benefits of Route planning and monitoring
Better business planning
By finding the best possible match between plan and execution, you will have simpler management, allowing you to apply preventive maintenance measures and introduce customer service improvements. It also helps to organize your fleet drivers better.
 
Better fleet control
By following route execution and receive notifications when vehicles deviate from planned routes, the alarms from a fleet management system with route planning and monitoring features will help you act on time before it is too late to correct the situation.
 
Improved customer service
By informing customers, they will be prepared for the operation and paperwork.
 
Reduced fuel consumption
By reducing fuel consumption, you can expect a cost reduction in total mileage with optimized routes and a corresponding decrease in your fleet's fuel costs.
Create, optimize, and control routes using Frotcom Route planning and monitoring
Frotcom's Route planning and monitoring module represents a useful tool for fleet managers who need to manage and are looking for the best route optimization to reduce costs and make their fleets more efficient. It includes several tools at your disposal, such as:
 
Create preferred routes
Associate preferred routes with vehicles
Automatically consider driving times and rest times rules to comply with legislation and increase safety
Create ad hoc legs and associate them with vehicles
Follow route execution on the map
Follow route execution on alternative views
Generate notifications as route execution progresses
Use alarms to react quickly
Generate reports
In conclusion, route planning and monitoring enable you to monitor your fleet's operations over time. It shows you where you can improve performance to lower your overall costs, helping you grow your business.
If you want to plan and monitor your routes throughout the day and reduce fleet costs, contact a member of our team.
Post tags:
Frotcom
Fleet management features
Route planning and monitoring
Fuel management
Fleet alarms
Fleet costs