Frotcom 2021 Annual Meeting gathers Partners from all over the world online
Frotcom's 11th Annual Meeting brought together Frotcom Certified Partners, again in online mode, due to the pandemic restrictions.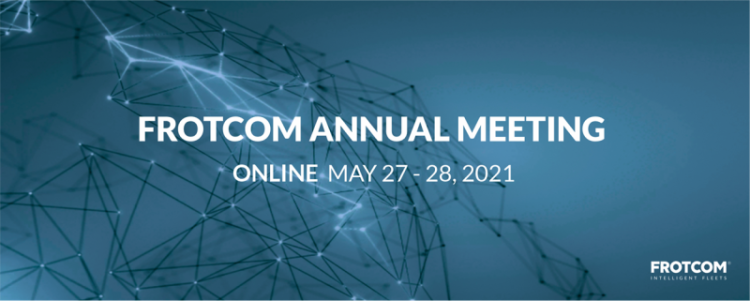 Frotcom held its annual meeting on May 27 and 28 in a virtual format.
Although it was entirely virtual, the event still brought together partners from all over the world. It allowed a valuable exchange of ideas regarding Frotcom and the fleet management business.
The online meeting started with Frotcom International's Chief Operating Officer, Nuno Liñan, welcoming all the partners who attended, presenting the new partners and the agenda for the two-day event. Frotcom International's CEO, Valério Marques, then summarized Frotcom's results for the year 2020 and the first quarter of 2021 and reaffirmed Frotcom's commitment to excellence.
Several other presentations and discussions took place, focusing mainly on new Frotcom features and the roadmap. Attendees then had the chance to participate in two round tables.
On the second day, as scheduled, the agenda began with sessions to present marketing opportunities and tackle the technical support. Sharing experiences was again a quite appreciated segment of the day, involving all the participants.
The event closed with the celebration of the Oustanding Partner Awards and the 10th year of partnership with Frotcom Italy.
"It was, once again, a pleasure reuniting (online) the Frotcom family for another annual meeting. This year's sessions were extended to all the partners' teams, from support to marketing/sales, without forgetting installers and technical teams. The annual meeting was created to encourage debate, exchange ideas, and share valuable information. Once again, we meet these goals and are thrilled for the next Frotcom meeting, hoping that in 2022 we can all meet on-site," stated Nuno Liñan.
Frotcom is looking to extend its growing partners' network in new countries. If you want to join us, please visit our Become a Partner page.
Post tags:
Frotcom
Frotcom Annual Meeting
Frotcom Certified Partner
Virtual Meeting
GPS vehicle tracking
Fleet management system