Frotcom showcases its fleet management software worldwide
Frotcom continues to attend online and in-person events to showcase new software developments and offer its customers the best fleet management solution.
To offer the best fleet management solution to its customers worldwide, Frotcom constantly seeks to keep them informed about the latest industry trends and innovations by participating in trade shows. Over the years, this has proven to be one of the most effective ways for our teams to keep up to date and find innovative ways to meet their customers' needs. 
Frotcom has continued to be present at various online events worldwide to showcase its fleet management software even during the pandemic. With events returning to normality, Frotcom also returned to attend in-person events.
The first example is Frotcom Cyprus, which on May 20, 2021, attended the 1st Technology in Action Conference. In this online event, Frotcom Cyprus COO, Constantinos Christodoulides, had the opportunity to talk about the theme "Routing and Traceability in Distribution".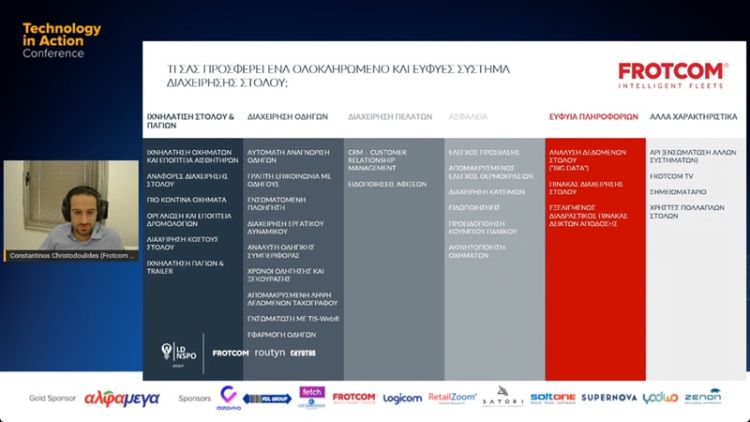 Constantinos Christodoulides, Frotcom Cyprus' COO, said that "The 1st Technology in Action Conference and Exhibition has been a great success, not only for Frotcom but also for all Logistics and Supply Chain experts in Cyprus. We have seen a range of innovative technologies and methodologies, and of course, Frotcom's Intelligent Fleet Management solution could not be absent from such an event. We have shared our value proposition with all attendees and already have been active with post-conference projects."
Between June 10 and 12, Frotcom Bulgaria was also present in the Truck Expo at the International Fair Plovdiv in Bulgaria and could firsthand showcase the latest Frotcom features. It was also an excellent opportunity to present the BG Toll and Hu-Go integration via Frotcom's API. The attendees were able to try the intuitive software themselves via the demo on the stand.
 

The most recent example is Frotcom's Bulgaria attendance in the 21st edition of the Architectural Building Week (ABW) from June 16 to 19 at the Inter Expo Center in Sofia, in Bulgaria. In this event, the Bulgarian team was excited to showcase the latest developments and features, such as Real-time tracking and Fleet cost management.
"We're delighted to be able to participate again in these great events. Our participation was extremely positive, allowing us to contact potential customers directly and introduce them to our latest updates and news," said Delyan Kostov, CEO of Frotcom Bulgaria.
Frotcom is constantly producing new features to help customers achieve true fleet intelligence. To stay informed about the upcoming events, visit the Frotcom events page.
Post tags:
Frotcom
Frotcom Cyprus
Frotcom Bulgaria
Architectural Building Week
ABW
Technology in Action Conference
Fleet management
Trade shows
Frotcom events
Real-time tracking
Fleet cost management