Frotcom promotes its fleet management software at several in-person events worldwide
With the lifting of several restrictions regarding COVID-19, Frotcom had the opportunity to promote its fleet management software and its new features in several in-person events.
On October 12th, Frotcom participated in the 9th Logistics Business Conference in Bulgaria, where Frotcom Bulgaria's team had the opportunity to present our fleet management software features at the Sofia event center.
Anton Ananyan, Sales Manager at Frotcom Bulgaria, was one of the conference speakers and presented Frotcom's benefits along with the company's most recent projects, such as the latest partnership with Bulgarian insurance company Lev Ins.
Frotcom also joined the 8th Congress of Transport in Tankers, held by CETM (Confederación Española de Transporte de Mercancías) and Transporte Profesional magazine, on October 19th and 20th in Madrid, Spain. At this event, Frotcom Spain had the opportunity to present "Excellence", a bespoke product for the most demanding clients who have chosen Frotcom to carry out their digital projects, using Frotcom's API.
According to Eduardo de Antonio, Country Manager at Frotcom Spain, "it has been an incredible experience to meet again with suppliers, clients, and friends in this Congress, after almost two years without face-to-face events. It has been an opportunity to share with those who have wanted to come to our stand to learn more about the two great projects of integral digitization that we are developing within the "EXCELLENCE" concept: Mémora and Moventis. In both companies, we are developing the integration of different software through Frotcom's API, facilitating the user experience and showing the KPIs that the user needs in a unique web platform. We are very proud of the results achieved, and we hope that more customers will join Frotcom in the short term."
From November 19th to 21st, Frotcom also had the opportunity to showcase its fleet management system and several features in Portugal. Our Portuguese-certified partner, Frotcom Lusitana, stood out at EXPOTRANSPORTE Logística – a Professional exhibition for heavy vehicles, light goods vehicles, and Logistics.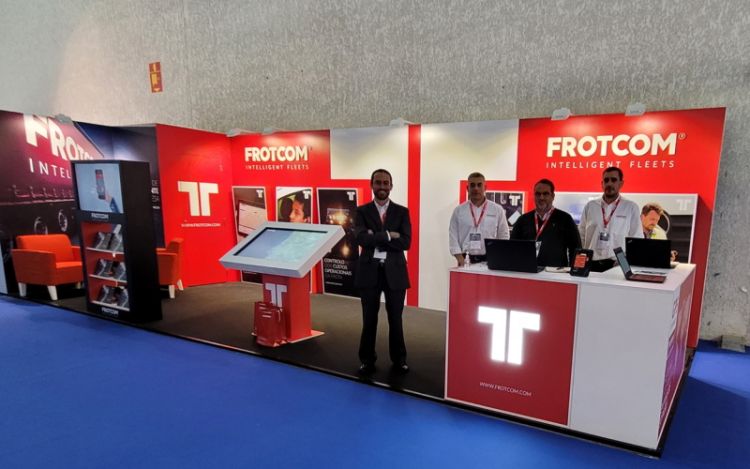 Jorge Henriques, Accounts Manager at Frotcom Lusitana, stated: "We were very pleased to meet our customers in a closer and more informal way, and show them the new Frotcom features. The 'EXPOTRANSPORTE e Logística' fair also allowed Frotcom to assess the current market situation and present our innovations in fleet management."
The return of in-person events has opened new opportunities for Frotcom to showcase its software to companies across the world who need to optimize their fleet performance.
Frotcom provides the most intelligent solutions for professional fleet management, ensuring the efficient use of fleets, thus maximizing productivity and safety while minimizing costs and improving customer satisfaction.
Frotcom can help you achieve your fleet management goals. If you would like to know more about Frotcom features, contact a member of our team.
Post tags:
Frotcom
Frotcom Bulgaria
Frotcom Lusitana
Logistics Business Conference
Congress of Transport in Tanks
Excellence
EXPOTRANSPORTE Logística
Fleet management
Trade shows
Frotcom events