Frotcom launches innovative Driver coaching module
We are pleased to announce Frotcom's new exclusive Driver coaching module, an innovative tool that allows following up in real-time how a vehicle in your fleet is driven, assisting you or a professional trainer in training drivers on the job.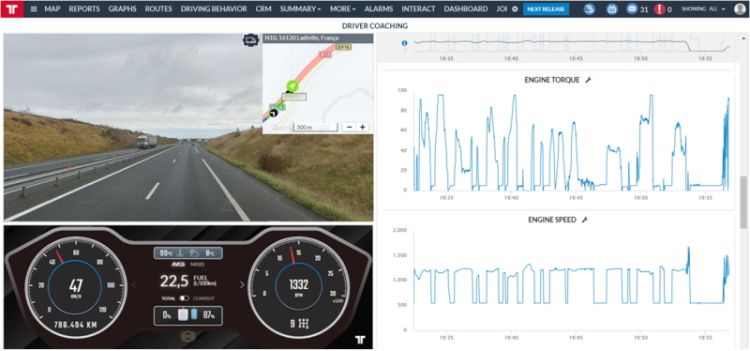 Imagine sitting side by side with every driver in your fleet. Imagine doing that without even leaving the office. This is exactly what Frotcom's brand new Driver coaching module does for you!
With Driver coaching, see how your fleet's vehicles are being driven, in real-time or at any moment in the past. In addition, it collects data regarding several parameters*, such as accelerator and brake pedal position, current gear, retarder, torque, engine speed, and many others. 
 
How does the Driver coaching work?
The new module starts by collecting many different types of CANBus data (through Frotcom's Extended CANBus Collection service) on top of a second by second tracking mode (Frotcom's Real-time tracking). 
It provides you with several tools to work with, such as creating Driver coaching sessions, visualizing them in the Driver coaching panel, and controlling their timeline. Moreover, it allows you to use your own customized graphs to visually compare several parameters at the same time (e.g., engine speed vs. torque, or engine speed vs. gear) and also to compare different vehicles/drivers executing the same route to easily understand why some spent more fuel and other less.
 
Driver coaching module benefits
Know in detail how your vehicles are being driven;
Easily identify where drivers can improve their driving style;
Train drivers on the job;
Show your drivers what needs to be improved;
Coach all your drivers with a fraction of the cost;
Assist inexperienced drivers from a distance;
Reduce costs and increase fleet productivity;
Access accurate information in case of an accident.
In short, Frotcom's unique Driver coaching module provides accurate driving analysis during trips, with telemetry data updated every second. This is a real game-changer for fleet managers, who now have unprecedented information to know how their vehicles are being driven, thus implementing fleet improvements, reducing costs, and increasing fleet productivity.
If you would like to know more about the new Driver coaching module, contact a member of our team.
 
 * The exact list of parameters depends on the vehicle's make and model.
Post tags:
Frotcom
Driver coaching
Feature releases
Fleet management
Intelligent fleets
Driver productivity
Reduce costs
Increase fleet productivity
Driving style