4 Frotcom features to improve communication with drivers
Discover four Frotcom features specifically designed to improve communication with your fleet drivers.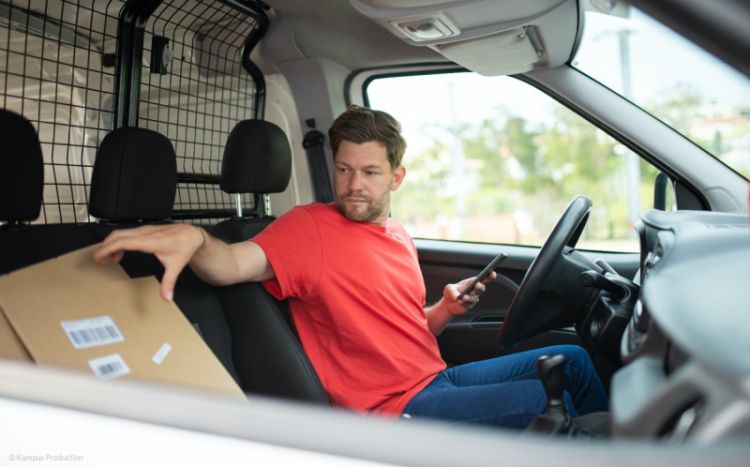 A communicative work environment is essential to solving issues quickly, and as a fleet manager, it is crucial to establish a regular dialogue with drivers. Telematics significantly simplifies this process, allowing you to communicate and check on drivers inside the cab during trips.
Establishing an open line of communication with drivers can sometimes be difficult, but with the right technology and a solid plan, this task can be much easier.
Frotcom offers you 4 features specifically designed to improve communication with your drivers:
 
Driver App
The Conversation module of the Driver app provides you with an easy-to-use environment to stay in touch with your drivers since it allows them to communicate with both the office and other drivers. Additionally, the Driver App enables you to share feedback with drivers about their trips. It provides drivers information about every trip they have made, including driving behavior, by automatically collecting data from Frotcom's Data Center and making it available to drivers through a nice set of maps, charts, and lists.
 
Mobile Workforce Management
Frotcom's Mobile workforce management provides an interface for Android onboard tablets and smartphones through which you can send drivers new jobs with all the necessary details. Drivers only need to accept them by touching the Start button to begin the navigation or, if required, send a message to the office directly through the tablet. Back in the headquarters, you can follow up on each job's completion in real-time.
 
Integrated navigation system
This Frotcom module uses Garmin Personal Navigation Devices or PNDs. It allows drivers to read and reply to messages received from the office or create and send new ones to other drivers. With just a click of a button, it also allows you to send Frotcom Places (points of interest such as customer locations) to your drivers' navigators, along with clear instructions. They only need to select the destination point received and navigate to it.
 
SMS and email messages
Alternatively to the previous Frotcom communication channels, you can also opt to use one of the following channels: a) SMS messages sent from Frotcom and delivered to drivers' mobile phones; b) email messages, again sent from the office delivered to the drivers' smartphones via email. In both cases, drivers can also reply to the office using the same channels. Frotcom's text messaging channels also allow you to select several drivers simultaneously and send a single message to all of them. As long as your company policy permits it, drivers can communicate with each other through Frotcom's messaging system, working together to solve any issue while on the job.
In short, good communication leads to better performance. Using intelligent fleet management features to improve communication with your drivers greatly facilitates the process: all issues are resolved faster, leading to drivers working more responsibly, reducing errors, and thus increasing fleet efficiency. These 4 Frotcom features will certainly help you optimize your communication with drivers and thus improve your fleet's performance!
If you want to know more about how Frotcom can help you improve your communication with drivers, contact a member of our team.
Post tags:
Frotcom
Frotcom features
Driver communication
Integrated navigation system
Mobile workforce management
Driver app
Text communication with drivers
Fleet management system
Fleet management
Intelligent fleets