Frotcom wins the "Digital Services" category at the Fleet & Service 2022 Awards
Frotcom was recognized at the Automotive Magazine's Fleet & Service Awards for the excellence of its Fleet management software for road transport companies, and we couldn't be happier.
Frotcom won the "Digital Services" prize at the 6th edition of the Fleet & Service 2022 Awards, hosted by Automotive magazine. The 20 winners of this year's categories were recognized during a dinner at Vila Galé Collection Palácio dos Arcos hotel in Oeiras (Portugal).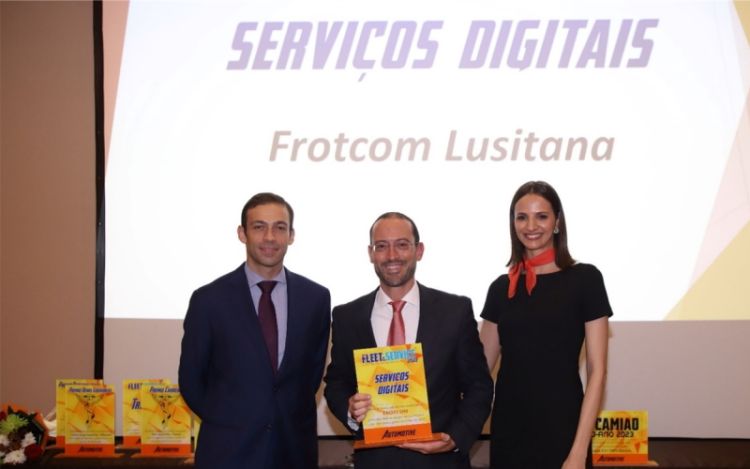 The "Digital Services" award is proof of recognition of Frotcom's software, which, according to Automotive Magazine, provides "the main solutions a road transport company needs both for operational optimization of its fleet and to manage it effectively."
Automotive Magazine's director, Eduardo Gaspar, stated, "Frotcom has proven to be essential for national transporters." Moreover, based on numerous testimonials from companies using Frotcom, the director added that "the Digital Services Award 2022 is undoubtedly well in hand, considering the benefits Frotcom has provided to the activities of road transport companies."
Gonçalo Serafim, Managing Director of Frotcom Lusitana, shared:
"It has been gratifying to have our good work recognized by Automotive Magazine. Congratulations to the entire Frotcom team on this prize, which we consider a driving force behind our continued efforts to ensure Frotcom's success."
The annual Fleet & Service Automotive Awards aim to recognize companies, entities, products, services, and professionals for the excellence and merit of their activities in areas such as Fleets, After-sales, Heavy Vehicles, Industrial Machinery, and the Environment.
We are overjoyed with this award and the recognition of our work by our peers and those who regularly use Frotcom to achieve their fleet management goals.
Post tags:
Frotcom
Frotcom Lusitana
Digital Services award
Fleet & Service Awards 2022
Automotive magazine
Fleet management
Fleet Intelligence