How can tires help you manage fuel efficiency?
Learn about the importance of tires and their maintenance to efficiently manage fuel costs in your fleet.
One of fleet management's biggest challenges is managing fuel consumption efficiently. As a fleet manager, performing efficient fuel management includes:
Proper route planning and selection of appropriate vehicles;
Practicing efficient driving techniques;
Properly maintaining your fleet vehicles;
Choosing the right tires;
Maintain tires in proper balance.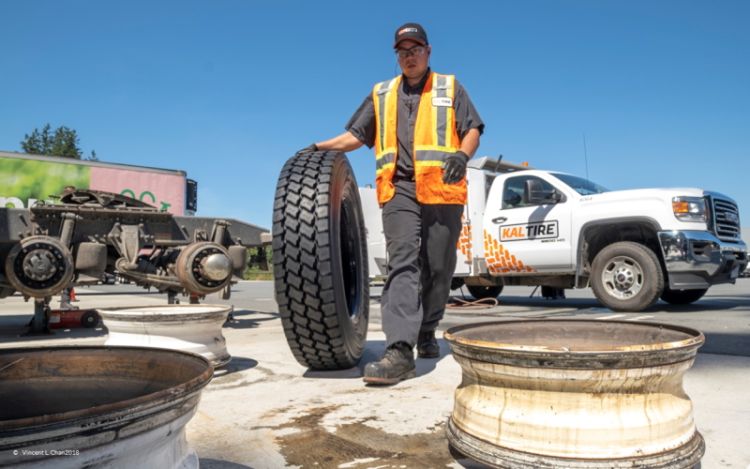 An important part of efficient fuel management is choosing the right tires and maintaining them in perfect running conditions. Tires affect the fuel efficiency of vehicles, primarily through rolling resistance. It is estimated that rolling resistance accounts for 20 to 30% of total fuel consumption. Still, other factors such as road quality, aerodynamics, vehicle weight, and engine type can also contribute to increased fuel consumption.
Also, it is essential to ensure that tires are always correctly inflated according to the pressure indicated by the manufacturer to save fuel on your fleet. For example, a tire that is 20% underinflated can increase a vehicle's fuel consumption by 10% since it offers more resistance and friction on the road and makes the vehicle work harder to move. In addition, underinflated tires increase tire wear and are estimated to cause 10 to 25% of tire blowouts. In contrast, overinflating tires can also seriously alter the contact area, reducing tire grip and duration.
How to make sure that your fleet tires are in proper condition?
A good practice is to check tire pressure regularly to confirm that the recommended PSI (pounds per square inch) is maintained and ensure optimum vehicle performance.
In addition to the tires you use in your fleet, it is also indispensable to recognize the importance of proper tire maintenance. Therefore, take a look at 3 aspects to consider when servicing your fleet tires:
Wear and tear;
Size;
Rims.
In short, many factors can affect the fuel consumption of your fleet vehicles. However, something as simple as choosing the right tires and knowing how to preserve them for as long as possible is critical to efficient fuel management in your fleet.
We invite you to read the article on our blog if you want to know more about how to "Prevent premature wear of tires".
Frotcom can help you efficiently manage your fleet's fuel consumption and monitor your vehicles' tire pressure and temperature (integration with ContiPressureCheck®). To know more, contact a member of our team.
Post tags:
Frotcom
Tires
Fleet management
Intelligent fleets
Efficient fuel management
Fuel efficiency
Fuel consumption
Control fuel costs
Optimize routes
Check tire pressure
Tire maintenance
Periodic fleet maintenance