Frotcom as a Silver sponsor of the Transporeon Summit 2023
Frotcom sponsored the Transporeon Summit 2023 and presented the latest developments in logistics innovation.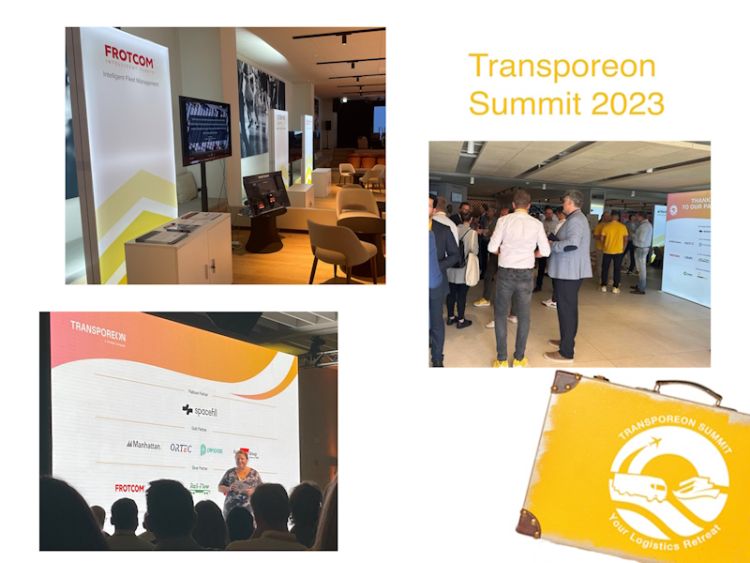 On September 19 and 20, 2023, Frotcom attended the Transporeon Summit as a Silver sponsor!
The Summit took place in Barcelona, Spain, bringing together experts and leaders from the transportation, logistics, and supply chain sectors, all keen to drive innovation and share industry knowledge. The Summit featured a line-up of speaker sessions with thought leaders enthusiastic to share their insights on common challenges and innovative solutions.
As well as gaining valuable insights into future trends and emerging technologies, we shared our insights and innovative fleet management software at our pod in the Partner Pavilion. Attendees were thrilled to witness the simplicity of the one-click integration to Transporeon's Visibility Hub, empowering fleet managers and owners to effortlessly provide real-time tracking of shipments to customers, enabling them to optimize fleet efficiency while concurrently minimizing CO2 emissions through a seamless carrier onboarding process.
Clive Taylor, Commercial Director of Frotcom International, said, "The Transporeon Summit 2023 was an incredible opportunity to meet some of Europe's leading shippers and logistics organizations. Frotcom was honored to be a Silver Sponsor of the event. Our showcase of Frotcom's Intelligent Fleet Management System and integration with the Transporeon Visibility Hub was met with great enthusiasm. The event provided a fantastic platform for networking and insightful discussions, reinforcing our commitment to innovation and collaboration. We're proud to have been part of this transformative event and look forward to future opportunities with Transporeon".
Frotcom is a Premium Telematics Partner of Transporeon and offers natively supported one-click integration to Transporeon Visibility Hub, the Transportation Management Platform for shippers, forwarders, carriers, and retailers to move, manage and monitor freight in a world in motion.
If you couldn't join us at this event and want to know more about Frotcom, contact a member of our team.
Post tags:
Frotcom
Frotcom Spain
Transporeon Summit
TPSummit
Intelligent fleets
GPS vehicle tracking
Fleet management system
Transporeon Visibility Hub
Trade shows