Google Maps integration with cost calculations for Directions and Nearest vehicles
In the latest update, we introduced an exciting improvement to Frotcom by integrating Google Maps with the ability to calculate and retrieve costs for "Directions" and "Nearest vehicles".
This new feature allows fleet managers to gain valuable insights into vehicle, driver, and total costs, optimizing route planning and resource allocation for improved efficiency and cost-effectiveness.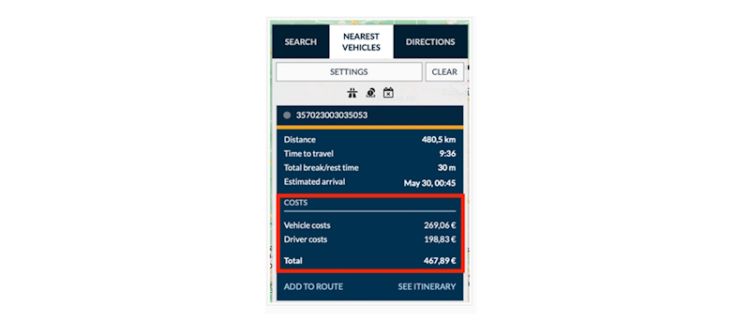 Frotcom users can now access cost calculations while determining "Directions" and locating "Nearest vehicles, " meaning you, as a fleet owner or manager, can make data-driven decisions by considering the optimal routes and associated costs. Businesses can significantly improve control over their operations by considering costs related to fuel consumption, and driver wages. Moreover, the integration allows for real-time cost updates, ensuring you have access to the most accurate and up-to-date information.
Additionally, the platform enables you to compare multiple routes and their respective costs, assisting in identifying the most economical and efficient options, ultimately leading to improved customer satisfaction and increased profitability.
If you want to know how to have complete control over your fleet and stay ahead of the competition, contact a member of our team.
Post tags:
Frotcom
Google maps
Directions
Nearest vehicles
Intelligent fleets
Fleet management
Fleet management system
Vehicle tracking
Reduce costs
Better fleet control