Frotcom Botswana hosts Fleet Management Convention
Frotcom Botswana hosts a Stakeholder Convention on "Sustainable fleet Management strategies in the new COVID- 19 era", from the 24th to 26th November 2021, in Gaborone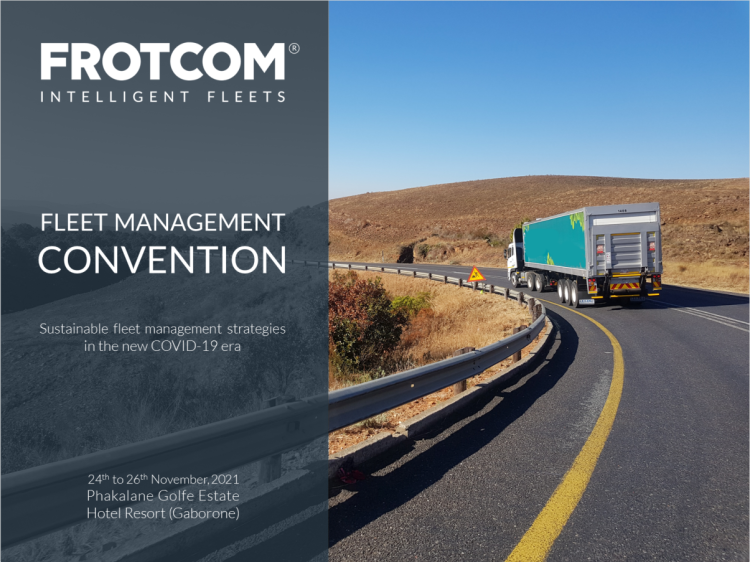 While the rapid development of vaccines against COVID-19 is an extraordinary achievement, the new normal is likely to be with us for an indefinite future and industries need to engage in re-inventing sustainability strategies going forward. It is on this understanding that as Frotcom Botswana we found it prudent to promote dialog among players in the transport industry by hosting a Stakeholder engagement Convention to be held at Phakalane Golf Estate Hotel Resort in Gaborone from the 24th to 26th November 2021.
The Convention will provide a forum for outage management/fleet professionals to exchange experiences and best practices related to current and emerging trends associated with planning and execution strategies in the fleet management industry.
The Director of transport and communication for Botswana, Mr. Modukanele  Bokhutlo will open the conference as a guest speaker. Experienced professionals in Fleet, Transportation and Logistics, Business Strategy, Finance and Accounting will be engaged as moderators and facilitators of the convention.
Convention outline
Through focus/group plenary session discussions the following themes will be covered:
 
Understanding the sector impact of COVID-19
Strategies to overcome fleet challenges during and Post-COVID-19 World
Complete knowledge and understanding of fleet and transport management
Software applications to increase efficiency and accuracy
Auditing existing processes of the organization and make enhancements for overall efficiency and productivity
Conducting situation analysis and create capabilities for sustainability and competitive advantage
Leadership , Change and Business Continuity Plans 
Registration can be done until 15th November, by contacting Frotcom Botswana.