Frotcom Botswana hosts its 3rd annual fleet convention
"Embracing Innovation and Sustainable Technological Advancement for Effective Problem Solving in Fleet Management" sets the tone for the Convention, to be held at Phakalane Golf Estate Convention Centre, Gaborone, 25-27 October 2023.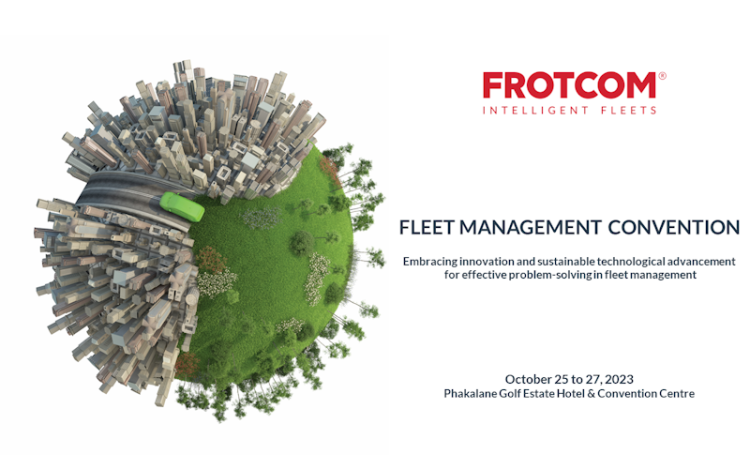 In an era of challenging economic conditions, supply chain disruptions, climate changes, and technological advancements, the importance of effective fleet management has never been more pronounced. The Phakalane Golf Estate Hotel & Convention Centre will host a transformative event from the 25th to the 27th of October, 2023.  The Minister of Finance and Economic Development Ms Peggy Serame will officiate it on the 25th October 2023 at 9 am. 
The Convention's theme, "Embracing Innovation and Sustainable Technological Advancement for Effective Problem Solving in Fleet Management" sets the tone for insightful discussions and exchanges among industry experts, fleet managers, and decision-makers. In today's dynamic landscape, where uncertainty prevails due to inflation, equipment shortages, fuel price volatility, and workforce challenges, innovative solutions are urgently needed.
The Convention's agenda is designed to provide tangible takeaways that can be immediately applied to enhance fleet management practices.
Convention outline:
Vehicle Management and Fleet Management Systems
Performance Indicators for Effective Fleet Operation
Vehicle Maintenance Strategies and Best Practices
Optimizing Vehicle Usage for Cost Efficiency
In-depth Cost Analysis within Logistics Management
Identifying Key Drivers of Fixed and Variable Costs
Strategies for Assessing Variables that Influence Cost Drivers
Calculating Relevant Fixed and Variable Costs
Evaluating Unit Costs and Total Costs
Innovative Delivery Methods for Optimal Efficiency
Leveraging Intelligent Fleet Management Systems for Seamless Operations
Route Optimization and Efficient Fleet Scheduling
Aligning Transportation, Production, and Research Processes
Navigating Material Production Rates, Supply Consumption, and Finished Goods Flow
Effective Measures for Reducing Logistics and Supply Chain Costs
Streamlining Shipments
Utilizing Integrated Platforms
Exploring Outsourcing Opportunities
Resource Optimization Strategies
Fuel and Tire Management Best Practices
Driver Management Techniques
Sustainable Acquisition and Disposal Practices
Oxygen Sensor Maintenance Insights
Strategic Partnerships with Telematics Service Providers
Balancing Acquisition Costs and Depreciation
At the heart of this convention lies a vision to embrace technological advancements and innovation as cornerstones for overcoming industry challenges. The ongoing digital revolution is reshaping businesses, and we believe that, armed with digital competencies, we can conquer the obstacles before us. Through cutting-edge solutions and data-driven insights, fleet managers can navigate the complexities of today's environment and build strategies that deliver enhanced efficiency, productivity, and cost management.
By the conclusion of this convention, participants will achieve the following goals:
1.    Enumerate the major elements of a comprehensive cost analysis.
2.    Gain a thorough understanding of how to execute these analytical elements.
3.    Grasp fundamental concepts related to conducting cost analyses within logistics systems.
4.    Collaborate with peers to decipher the processes and steps essential for assessing costs in logistics.
5.    Acquire insights into the fundamental principles underpinning effective cost analysis.
By sharing experiences, best practices, and emerging insights, we can collectively shape the future of fleet management.
For more information and registration details, please get in touch with Frotcom Botswana.
TEL: +2673117454
CELL: +26776171800/+26775751857
EMAIL: info@bw.frotcom.com
WEBSITE: www.frotcom.com
Embrace innovation. Drive sustainability. Solve challenges. Join us at the forefront of fleet management evolution.