Rundu Bus Service reduces its fuel costs with Frotcom
Passenger Land Transportation
Fleet alarms | Driving behavior analysis | Route planning and monitoring
The Namibian passenger transport company uses Frotcom's fleet management system to reduce fuel costs and mitigate risks.
Known as "Emangweni Transport", Rundu Bus Service founded in 1994 has been specializing in staff transportation for the past five years. Nowadays, they employ 4 buses dedicated to staff transport mainly in Rundu, the Okavango region, Windhoek, and the Khomas region of Namibia, transporting more than 500 commuters a day.
After being contacted by a Frotcom sales representative, Abraham Nkomo, Branch Administrator of Rundu Bus Service, went through the demonstration process and selected Frotcom's fleet management system due to its ease-of-use and accurate tracking capabilities.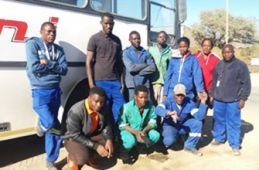 Emangweni Transport staff
The biggest challenge was to introduce the fleet management system to the drivers. As Abraham Nkomo reported, "we had to be clear about why we were adopting this technology and how it would benefit drivers". After they tested it, they could see for themselves the great opportunities for improved driver safety.
With Frotcom's support, Rundu Bus Service could design fixed routes, determine the speed limit for each on Frotcom, and create the entrance and exit alarms to monitor the fleet's performance.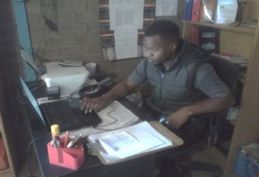 Abraham Nkomo - Branch Administrator of Rundu Bus Service
"Since implementing Frotcom's fleet management system, driving behavior has improved, drivers are conscious of speed limits and idle times. And by keeping track of our fleet, monitoring speed alerts, and analyzing idle reports, we've been able to reduce fuel costs by 50%", said Abraham Nkomo.
Additionally, Abraham notes that Frotcom has helped to reduce maintenance costs by 35% with a series of customized measures that maximize his fleet's vehicle usage.