Frotcom exceeds Zelsa's expectations
CRM – Customer relationship management | Remote tachograph download
Zelsa is a Spanish transportation company operating throughout Europe with more than 50 years of experience in the international transportations field.
Client Challenges
Zelsa was using a basic vehicle tracking system. The system was quite inefficient for their needs, giving no information about the fuel consumption, speed, or even routes or places. Data transmission was very limited, and sometimes the company was unable to track the entire fleet, for days.
Mr. Juan Zorrilla, CEO of Zelsa was not confident to find the right GPS vehicle tracking system anymore. A solution that could monitor routes efficiently, without problems transmitting data, registering idling times, fuel consumptions, harsh braking, and accelerations, among other specific needs.
Based on an internal referral, Zelsa contacted Frotcom Spain.
Frotcom Spain's approach
Frotcom Spain organized a free trial test for 2 weeks in one of Zelsa's trucks. A training session was delivered to Zelsa's team and after the installation, the company could see the requested data instantly in Frotcom. Due to its ease of use and trustful information, Zelsa decided to implement Frotcom in its 10 trucks and adopted additional capabilities, such as Remote Tachograph Download, CANBus Data Reading, Route Planning, and Monitoring and configured relevant reports and alerts in Frotcom's interface.
Benefits achieved
Frotcom has provided Zelsa with 100% reliability, allowing to effectively control its fleet and fuel consumption while optimizing fleet operations and customer service.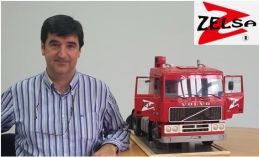 Mr. Juan Zorrilla CEO at Zelsa
Since Frotcom solution was implemented, Mr. Juan Zorrilla (on the photo) has been impressed with the solution's reliability, "I was far to imagine how many features Frotcom could offer to Zelsa. For me, fleet management systems were all the same, I didn´t trust them much. The last experience with fleet management systems wasn't good at all, but the truth is… with Frotcom the results have exceeded my expectations. I highly recommend Frotcom to all my partners and transportation agencies".
Zelsa has significantly improved customer service by configuring Frotcom notifications to customers a few minutes/kilometers before arrival time. The company is noticing a decrease in fuel consumption, now that they can access real-time information about the trucks' fuel level, fuel variation, and engine speed (RPM).
By using the Remote Tachograph Download they can also download tachograph files remotely, from both the tachograph's mass memory and the drivers' tachograph cards, without leaving the office and with the advantage of keeping the files in Frotcom's Data Center.