Turn on Frotcom TV! The channel that puts you in control
Broadcasting now, Frotcom TV is a phenomenal breakthrough in vehicle tracking.
Based on a TV newscast format and providing panoramic street views, it lets you co-drive every vehicle in your fleet, without moving from your desk.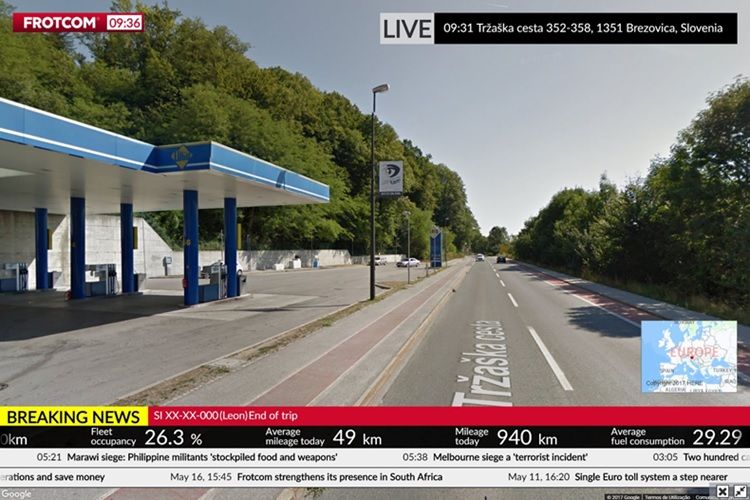 If you manage your fleet through Frotcom, then from a screen in your dispatch room you can watch the progress of each trip. It's just like sitting next to your driver.
Designed for a large screen, with Frotcom TV you'll be informed in real time of events taking place in your fleet. Your potential customers won't fail to be excited by this dedicated TV network, that displays current information on their vehicles and which allows them to directly realize efficiencies that can benefit their business.
Frotcom TV not only features news about your fleet, but can display any additional news sources you select, such as the BBC or the Financial Times, using their RSS, the common internet standard for newsfeeds.
In addition Frotcom TV constantly cycles through the vehicles in your fleet as significant events occur, like a triggered alarm or arrival at a destination, with customisation allowing other feature events to be selected from a comprehensive menu.
One of the most impressive features of Frotcom TV is the ability to display the 360-degree panoramic view surrounding the vehicle. That's even better than being there yourself.
You will also have access to some of your fleet's key performance indicators, such as the:
estimated daily costs
number of alarms triggered
number of visits to customers
current occupancy or workload
If you want to grow your business through increased efficiency and customer satisfaction, new Frotcom TV is a must watch.
Post tags:
Frotcom
Vehicle tracking
Intelligent fleets
Fleet management
Frotcom TV
Real time events
360-degree panoramic view
Increase efficiency
Increase customer satisfaction