Plenty of special reasons to celebrate with the Frotcom team
It has been 20 amazing years since Frotcom's software was launched. But this year has been extra special.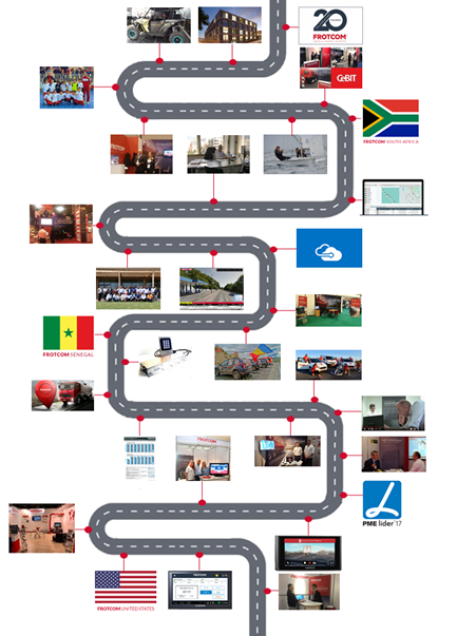 To celebrate our 20th anniversary and to accommodate our growing team, Frotcom International has moved into a new office, with bigger and better facilities.
This year Frotcom users have also seen the introduction of one of their biggest benefits yet, the data center migration to Microsoft Azure, delivering a truly Intelligent Fleet Management experience to users worldwide, increasing Frotcom's software capabilities in terms of response time, security and scalability.
The network of Frotcom Certified Partners continued to grow, enhancing Frotcom's global reach. This year to the USA, Senegal and South Africa – where we strengthened our presence - and the company continued to increase revenues.
Also this year, Frotcom cemented its presence among the elite group of companies regarded as the 'engine' of the Portuguese economy – companies that constantly pursue growth strategies and demonstrate competitive leadership – receiving PME Líder status (SME Leader) for the 4th year running.
Frotcom International and partners clearly demonstrated that Frotcom is one of the top professional software options for vehicle tracking and fleet management. With live events showcasing Frotcom's benefits and our latest innovations and developments at both fairs and exhibitions in numerous countries around the world.
Among the new features presented at the fairs, Frotcom launched its breakthrough route planning and optimization module, Frotcom Scheduler, a fleet management game changer,  Frotcom TV, and Benchmark reports. Frotcom also presented Garmin's Dash Cam integration and a new Hi-tech locking system to its customers. The company has also been busy developing the necessary tools for companies with heavy goods vehicles in Peru to comply with "mandatory GPS tracking" and, in the US market, to help North American fleets achieve ELD compliance.
Of course, our success would not have been possible without you and we would like to take this opportunity to wish everyone a wonderful holiday season, full of joy and cheer.
Post tags:
Frotcom
Celebrating 20 years
Fleet management software
GPS vehicle tracking
PME Líder
Transpotec Logitec 2017
CeBIT
TransLogistica 2017
Cargo Truck & Van Expo
Aidex Brussels
Frotcom Scheduler
Frotcom TV
Benchmark
Garmin
ELD Compliance
Microsoft Azure
Become a Frotcom Partner
Commercial Vehicle Show
Data center migration
TruckX
Garmin Dash Cam