Retail chain Maxi increases fleet efficiency with Frotcom
The constant support of the Frotcom team in Angola has helped Maxi to increase efficiency and make positive improvements to the management of its fleet.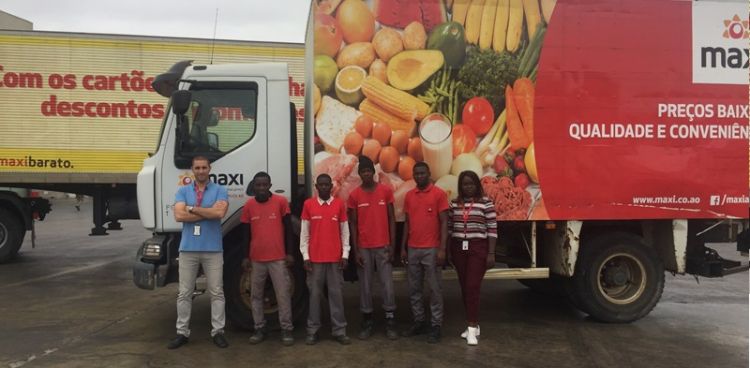 Maxi has 20 years of experience in Angola, with over 1,500 employees, who carry out daily operations for 15 retail stores in Luanda, Porto Amboim, Sumbe, Lobito, and Benguela.
In line with its mission to provide outstanding products to its customers, the company follows a Quality and Food Safety Policy. It is also the first retail company in Angola to obtain ISO 9001: 2015 Certification.
Through a company in the group, João Santos, Fleet and Transportation Manager at Maxi, saw Frotcom in action.
Maxi needed to:
Optimize processes to control or predict situations that could jeopardize the quality of delivery and customer service;
Collect data obtained from each vehicle and driver and analyze possible improvements;
Ensure drivers, vehicles and goods safety during the delivery and collection of merchandise;
Identify where the budget allocated to the fleet was being spent and if there were expenditures that could be streamlined.
Frotcom's unique features created an unparalleled fleet management experience. These, alongside Frotcom's proposals for the improvement of existing processes, were the factors that motivated the adoption of Frotcom throughout Maxi.
Since implementing Frotcom, drivers have started to adhere to pre-defined routes as well as areas of operation defined by Frotcom.
Areas have been designed in Frotcom to allow Maxi's fleet management team to follow how many vehicles are operating in a particular zone and how long each vehicle spends in any location (known as "Places" in Frotcom).
Since using Frotcom improvements in driving behavior have been observed and dwell times during the unloading of goods as well as the idling times outside locations defined for unloading, have decreased. João Santos estimates a reduction of 25% for in-store unloading times and a 50% reduction in idling during journey times. These improvements along with the fleet operational processes adopted have led to a reduction in fuel consumption of around 15%.

Although the features that will enable the measuring of some vital operational indicators for the 48 vehicles in the fleet were not yet totally implemented, João Santos recognizes that "The Frotcom team is assisting us with the necessary steps required for this to be achieved."
Maxi is implementing new Frotcom features and is receiving training in how to take maximum advantage of the data provided by the fleet management system, to improve fleet operations and reduce associated costs.
João Santos concludes, "The level of service provided by Frotcom was exactly right for our needs and the highly qualified team responded directly to any issue. We place immense value on the Frotcom team's constant concern with the continuous improvement of every process".
For a company that takes pride in offering quality products and services, Frotcom is certainly a great add-in to achieve efficient fleet operations and excellent customer service.
Post tags:
Fleet efficiency
Fleet management
Idle time
Vehicle tracking
Efficient fleet operations
Customer service
Reduce fuel consumption
Driving behavior