We are ISO 9001:2015 certificated…again
For the 3rd year in a row, we're proud to announce that Frotcom International has renewed ISO 9001:2015 certification for its Quality Management System.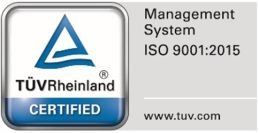 The ISO 9001:2015 certification and audit process were conducted by TÜV Rheinland, requiring the engagement of our entire organization. This achievement represents a third-party validation of Frotcom's longstanding and unwavering commitment to providing the highest quality products and services to our customers, across all of our business segments. The adoption of these protocols within our Business Management System further ensures that our customers receive consistent excellence in the provision of quality products, as well as continued improvements in service, increased operational efficiency and enhanced accountability.
Valério Marques, CEO at Frotcom International, said that "This Certification is once again the confirmation that Frotcom International keeps a very strong emphasis on customer satisfaction and that can be seen in the feedback we keep receiving from the market. We continuously review and improve procedures in areas such as customer care, R&D and software development, in order to deliver products and services with top quality."
About ISO 9001:2015
ISO 9001:2015 is a globally recognized quality management standard, granted to companies all over the world that meet or exceed rigorous international standards in quality management. The standard is based on several quality management principles, including a strong customer focus, the involvement of high-level company management, a process approach and ongoing improvement to the service provided.
Post tags:
ISO 9001:2015 certification
Frotcom
Intelligent fleets
TÜV Rheinland
Top management
Continual improvement
high-quality products
increase effeciency
customer focus
Quality Management System