Vera, the autonomous truck concept from Volvo
Volvo self-driving truck – Vera - combines the benefits of three key technological opportunities – automation, connectivity and electromobility – to create optimal efficiency in transportation and logistics operations.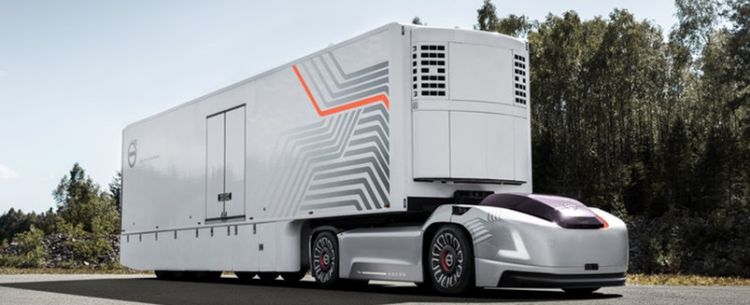 Without a driver and without a cab, Vera is powered by lithium-ion batteries with a range of up to 300 km.
Revealed last September, Volvo Trucks' future transportation breakthrough was presented in Berlin at the group's Innovation Summit.
Named Vera, this transport solution with no cab can operate without emissions and at reduced noise levels. The 100% electric and 100% autonomous truck will offer seamless transport services between fixed hubs.
Vera is designed for regular and repetitive tasks, over short distances, where large volumes of goods need to be delivered with precision, such as in ports, factory areas and mega-logistics centers. This means that Volvo Trucks will not only be a provider of vehicles but also of maximum-efficiency transportation of goods from one hub to another.
The Vera innovation can be controlled and monitored from a command center, and has the potential to make transportation safer, cleaner and more efficient. The transport command center continuously monitors the progress of the transport and keeps an accurate watch on each vehicle's position, battery charge, load content, service requirements and other parameters, in a way that avoids unnecessary idling and increases delivery precision. Vehicles that operate on the same route co-operate to create optimal flow.
According to
Mikael Karlsson, Vice President of Autonomous Solutions at Volvo Trucks
, "
In areas like ports and mega-logistics centers, we will see increased delivery precision, as well as improved flexibility and productivity. Today's operations are often designed according to standard daytime work hours but a solution like Vera opens up the possibility of continuous round-the-clock operation and more optimal flow. This, in turn, can minimize stockpiles and increase overall productivity.
"  
Source:
www.volvotrucks.com/vera
Post tags:
Volvo trucks
Vera
Volvo
Road transportation
Automation
Connectivity
Electromobility
Autonomous truck
Electric trucks
Zero-emission vehicles