Trucks are the biggest heist targets according to an annual report on global cargo thefts
The lack of secure parking is putting trucks at high risk of slash and grab thefts according to this BSI & TT Club report.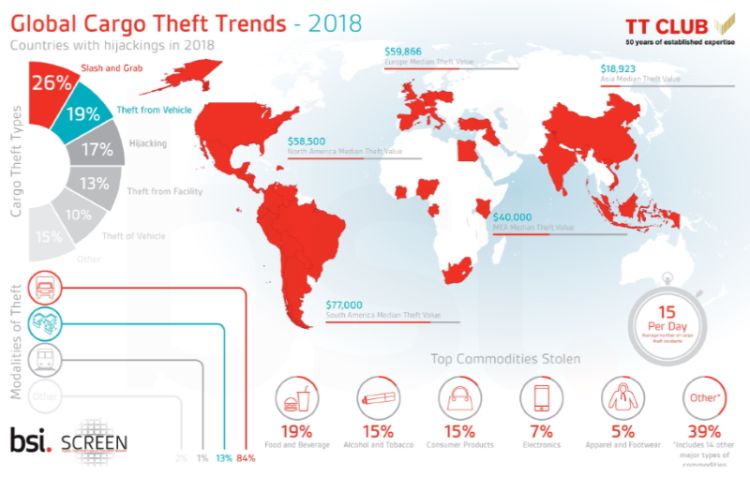 The BSI Supply Chain Services & Solutions & TT Club Cargo Theft Annual Report 2018 has called attention to the overwhelming number of attacks on truck cargos across the globe. This problem is exacerbated by the lack of safe and secure truck parking areas (SSTPA).
The report found that trucks are the biggest heist targets with this modality accounting for a significant eighty-four percent (84%) of thefts globally, compared to warehouse or facility thefts. Criminals who cut into the trucks' soft canvases to steal goods carry out twenty-seven percent (27%) of global cargo thefts. Such attacks can easily take place because of the lack of secure truck parking spaces.
In Europe, particularly, the truck parking shortage is the biggest factor for cargo thefts. Indeed, fifty percent (50%) of cargo thefts across Europe are carried out via the slash and grab method since trucks are forced to park in vulnerable areas. The high number of canvas trailers used by these countries also makes matters worse. The UK is reportedly the worst country in Europe for cargo thefts, accounting for eighty-six percent (86%) and Germany is at the other end of the spectrum at with four percent (4%).
BSI & TT Club also found that while Europe is less susceptible to truck hijackings, such attacks are most likely to occur in Italy.
Cargo theft is big business for criminals; the average theft value is highest in South America with stolen goods at $77,000, followed by Europe ($59,866), North America ($58,500) and Asia ($18,923). The most popular targets include food and beverages and alcohol and tobacco at 30%.
The report highlights another growing risk for the logistics sector with a tendency for robberies to involve people from within or close to companies. Conversely, external threats have decreased in recent years, owing to increased additional security.
As indicated by the recent
study from the European Commission
, measures must be taken to improve the network of secure and safe parking areas (SSTPA) for trucks and therefore reduce heists.
Post tags:
Cargo theft
Truck heists
Secure and safe truck parking areas
SSTPA
Logistics
Road transport