Platooning - new trials show that the use of electronically linked trucks is viable
In the first steps towards an automated network, the recently completed pilot points to substantial fuel savings and fewer emissions.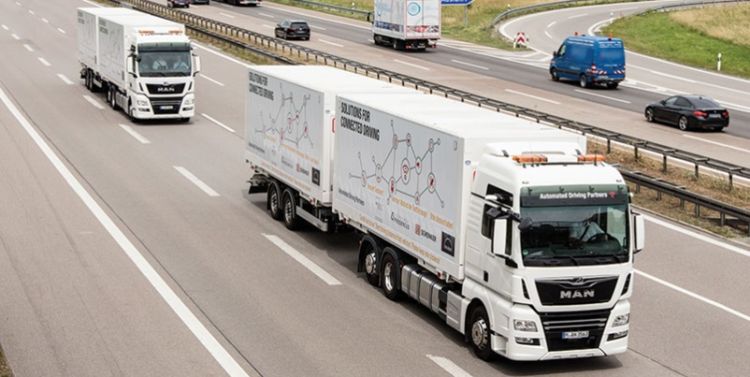 The trials, undertaken by German Logistics Company DB Schenker, MAN Truck & Bus, and Germany's Fresenius University of Applied Sciences have indicated that the operation of electronically linked trucks on German motorways is both safe and reliable.
 
As part of what is said to be the world's first field test, a platooning system was installed into the MAN trucks, with two experienced professionals driving their vehicles on the German Autobahn 9 - between the Nuremberg and Munich branches of DB Schenker - over a seven months period, covering a distance of more than 35,000 kilometers.
 
The MAN trucks operated smoothly for 98% of the time with the only driver intervention taking place once in every 2,000 kilometers. The pilot project also demonstrated a significant reduction in fuel consumption, with levels coming down by 3-4%. This also meant fewer emissions were being released into the environment.
 
Alexander Doll, Member of the Management Board for Finance, Freight Transport and Logistics at Deutsche Bahn AG to Society of Motor Manufacturers and Traders (SMMT), said the pilot project determined that "40% of the kilometers traveled could be undertaken by platooned trucks". Still, further testing would be necessary, and a regulatory framework to see it become a reality. It is clear that platooning offers customers and businesses an even more reliable, potentially automated network. 
The Fresenius University of Applied Sciences' scientists investigated the drivers' neurophysical and psychosocial effects. The experience of the actual field test brought about a significant change in the previously skeptical attitude of the drivers.
Post tags:
Electronically linked trucks
Automated network
Fuel savings
Fewer emissions
Platooning