Access the complete driving times on the Vehicle Infobox
Make the most of your Vehicle Infobox in Frotcom, by accessing extra information about your drivers' activity in the new Complete Driving Times panel.
The Complete driving times panel of the Vehicle Infobox conveniently displays the information from all the other Driving times panels, as well as some extra lines with more data regarding the period, the breaks, and the amplitude of the driver.
Specific lines like the Beginning of the period, Duration of the last break, and Amplitude can be quickly visible in this panel.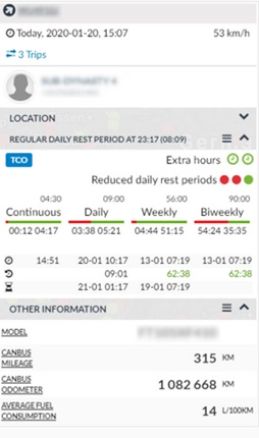 To know how the information is displayed in the panel, visit Frotcom's Help Center.
If you hover the icons in this panel, you will get a tip regarding each of the lines!
 
For more information about the Complete Driving Times on the Vehicle infoboxes, contact a member of our team.
Post tags:
Frotcom
Driving monitoring
Fleet management
Driving times panels
Complete driving
GPS vehicle tracking
Fleet management software
Frotcom Help Center