Frotcom Annual Meeting 2020, in online mode
This year's Frotcom Annual Meeting gathered Certified Partners from around the world at its tenth annual meeting, this time in a virtual format due to concerns associated with COVID-19.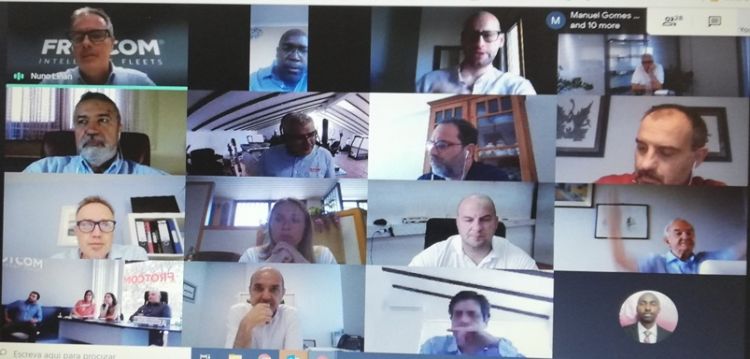 The 10th Frotcom annual meeting took place on May 21 and 22.
The agenda was designed to facilitate debate, encourage ideas, and share information to create a common understanding, and drive towards actionable goals.
The online meeting started with Frotcom International's Chief Marketing Officer, Nuno Liñan, introducing the online meeting and welcoming more than 40 partners. Frotcom International's Chief Executive Officer, Valério Marques, summarized Frotcom's full-year 2019 and first-quarter 2020 operating results, discussed Frotcom's responsibilities, framed the opportunities for the future and reaffirmed Frotcom's commitment to excellence. And the meeting followed its course, and as usual, attendees had the chance to discuss the fleet management market globally and share the best practices and innovation, this time with a particular focus on issues facing Frotcom's business, due to the impact of COVID-19 worldwide.
"We took a look at current market trends during COVID-19, and we got to see the roadmap for new features. The annual meeting was brief, but to the point," said Jason Hancocks, Operations Manager of Frotcom South Africa and one of the regular attendees of Frotcom Annual Meetings.
 
Despite being held entirely virtual, Frotcom's Annual Meeting still allowed exceptional knowledge sharing, exciting announcements, and the presentation of new features that will take Frotcom into the future.
In the end, there was still time to celebrate the 10th anniversary of Frotcom Macedonia, Frotcom Lusitana, Frotcom Sierra Leone, and Frotcom Spain.
If you want to be part of this amazing network and become the Frotcom partner in your country, please visit our "Become a Frotcom Partner" page.
Post tags:
Frotcom
Frotcom Annual Meeting
Frotcom Certified Partner
Virtual Meeting
GPS vehicle tracking
Fleet management system