Frotcom stands out at several events in Europe
In May 2022, Frotcom was present at three events to showcase its fleet management system and reveal some exciting news.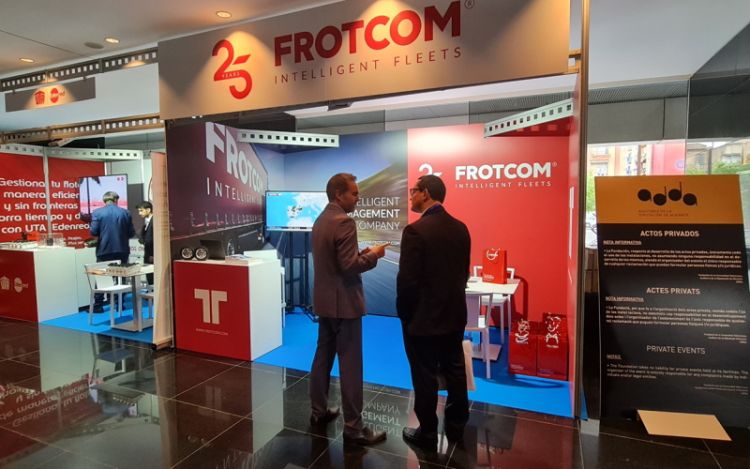 From May 4th to the 7th, Frotcom took part in the 18th Congreso Nacional de Empresarios de Transporte in Alicante, Spain. At the Auditorio de la Diputación de Alicante (ADDA), the Frotcom Spain team presented Frotcom's newly released services: 
 
Real-time tracking mode, in which GPS and vehicle data are collected and made available to users once a second. 
Extended CANBus collection, which provides you with much more data collected from trucks (including accelerator and brake pedal position, gear, retarder, and many other driving parameters);
Customized graphs for you to create your own graphs with up to four variables in each graph; 
Driver coaching to monitor how vehicles are driven and coach your drivers for maximum performance with real-time driving data.
Just a few days later, on May 10th and 11th, 2022, it was the turn of the Frotcom Greece team to attend the Logi.c 2022 Logistics Conference in Thessaloniki, Greece. The event, which took place at the Port Palace, was an excellent opportunity for the team to present the same new features to entities such as the Hellenic Association of Industries, supporters of all collective bodies in the industry, and scientific leaders of several influential companies, institutes, and executives.
Frotcom Italy also showcased Frotcom's advanced vehicle tracking and fleet management system at the Transpotec Logitec 2022 in Milan, Italy, from May 12th to the 15th. The road transport and logistics exhibition took place at the Fiera Milano and offered a comprehensive overview of the present and future of road transportation. Frotcom stood out with live demos of its latest innovations and developments, with particular attention to the new real-time tracking services available in Frotcom and the Remote tachograph download solution.
As said by Simone Fortunati, CEO of Frotcom Italia, "For participating organizations, like Frotcom, it was a great networking and awareness event. Our demo sessions were a great help in preparing fleet managers for upcoming challenges and directing them toward Frotcom's new features and telematics trends. This event allowed us to meet with wonderful people and truly understand their telematics needs".
At Frotcom, we offer you the tools to manage your fleet intelligently, and we are continuously developing new features in line with your fleet's specific requirements. 
If you would like to know more about Frotcom features, contact a member of our team
Post tags:
Frotcom
Frotcom Spain
Frotcom Italy
Frotcom Greece
18th Congreso Nacional de Empresarios de Transporte
Globally Connected Supply Chains Conference
Transpotec Logitec 2022
Fleet management
Trade shows
Frotcom events