Frotcom Bulgaria organizes its first road show
In its first own show tour, Frotcom Bulgaria visited five central cities in the country to present the latest and most attractive Frotcom developments.
The past two months were particularly exciting for the Frotcom Bulgaria team, who organized its first own show tour to present Frotcom's latest developments in the cities of Plovdiv, Sofia, Burgas, Shumen, and Pleven.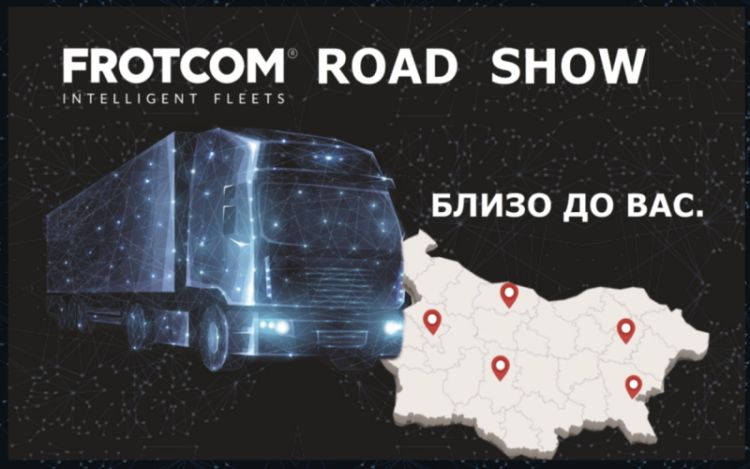 The Road Show took place from September 27 to October 14 and was a unique opportunity to demonstrate to thousands of visitors how Frotcom works and helps companies manage their fleets efficiently while increasing productivity and reducing costs.
For visitors' convenience, six separate corners were reserved for different modules, in which the Frotcom Bulgaria team showcased the most attractive Frotcom features and welcomed some special guest speakers.
On September 11, Frotcom Bulgaria also attended and sponsored the Logistics Business Conference organized at the Sofia Event Center (SEC). Once again, Frotcom stood out with a presentation by Frotcom Bulgaria's Advertising Manager, Yanka Nusheva, which focused on innovative Frotcom features such as Driving behavior analysis, Driver coaching, Workforce management, and Driver app.
Frotcom continuously develops features based on its customers' needs, so they can manage their fleets efficiently and at reduced costs. To stay informed about the upcoming events, visit the Frotcom events page.
Post tags:
Frotcom
Frotcom Bulgaria
Roadshow
Frotcom events
Fleet management events
Logistics Business Conference
Driving behavior analysis
Driver app
Driver coaching