Frotcom API: The path to efficient fleet management
Frotcom enables fleet managers to make the most of data collected from their vehicles and drivers through API integration with external, high-end IT systems.
It is widely known that Frotcom's fleet management system allows companies to streamline their operations and collect valuable data about their vehicles and drivers. Yet, the usefulness of this data can be further extended through Frotcom's API, which allows integration with external software.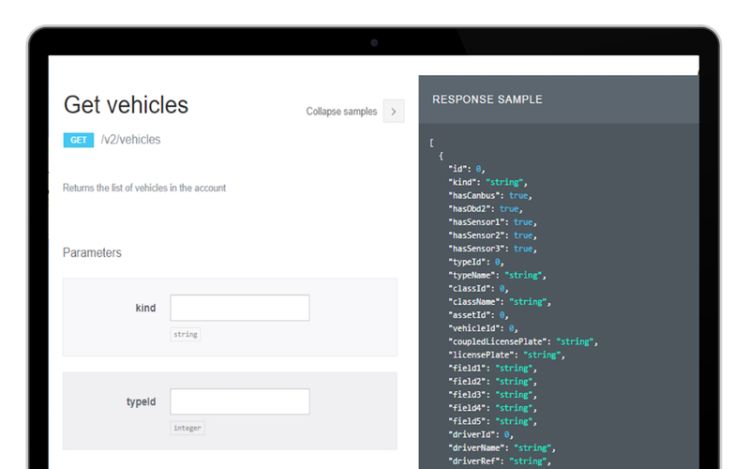 Frotcom's API offers resources for extracting valuable data from vehicles, including positions, speeds, alarms, and trips. Moreover, it gives IT departments or providers access to all essential resources, from authentication to data retrieval, insertion, and deletion. It also allows external applications to send data to Frotcom, such as new jobs or messages to drivers. The API also uses a RESTful design and is self-documenting online, making it easy to use.
Once you have your fleet management data in Frotcom, Frotcom API provides several integrations with the leading IT systems in the transportation and logistics industries, human resources, invoicing, and ERP software systems.
These integrations allow data to be shared between systems, making managing operations and tracking fleet performance easier.
The path to a more efficient fleet management
Many fleet managers use Frotcom's API to make fleet management more efficient. By integrating Frotcom's API with their back-office software, they can increase productivity by eliminating the need for manual data entry. In simpler terms, without anyone needing to enter information manually, the office staff can focus on more valuable tasks to help drive business. Also, since there is no human interface between Frotcom and the back-office software, fleet managers can reduce the chances of errors that often occur when data is retyped.
Another benefit of Frotcom's API is scalability since there is no need to hire more people to manage the flow of information as the business grows. This can be especially useful as fleet managers add more services, drivers, and vehicles to their fleets.
Frotcom on a Google Sheet
One exciting feature of Frotcom's API is using Frotcom data on a Google Sheet, which provides fleet managers with a convenient and user-friendly way to access and analyze their data. In addition, this feature will allow you to assign tasks to drivers or change a driver's status. It requires basic knowledge of APIs, scripting, and programming languages but does not require professional programming skills.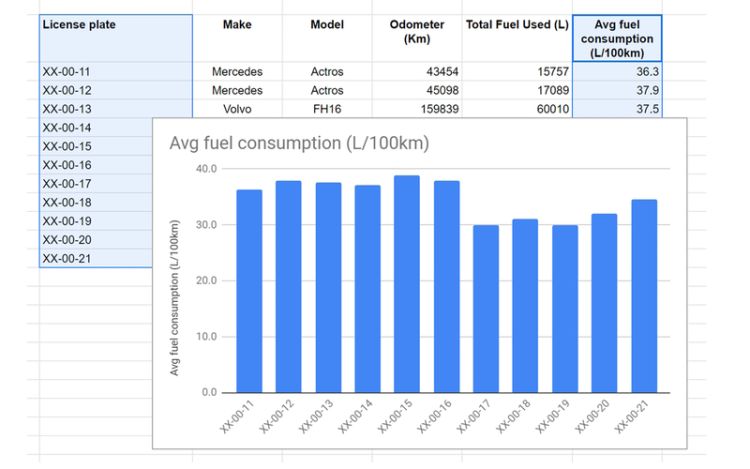 Results on a Google Sheets file.
With access to Frotcom API's various integration options, you can do what usually takes hours with a single click. In other words, using Frotcom API, you can simplify or even eliminate the most time-consuming fleet management tasks and have a more efficient a productive fleet.
If you want to know more about Frotcom API and how to streamline operations and improve your fleet performance, visit the API feature page or contact a member of our team.
Post tags:
Frotcom
Frotcom API
API integration
Software integration
Google Sheets
Continental
VDO
BG TOLL
HU-GO
TimoCom
DHL
GEFCO
LKW Walter
Garmin
Increase productivity
Scalability