Electronic Logbook is now available in Frotcom's Driver app
The new Electronic Logbook module in the Driver app introduces a way to register the drivers' daily activities, similar to a tachograph, to keep compliance with the latest Portuguese legislation.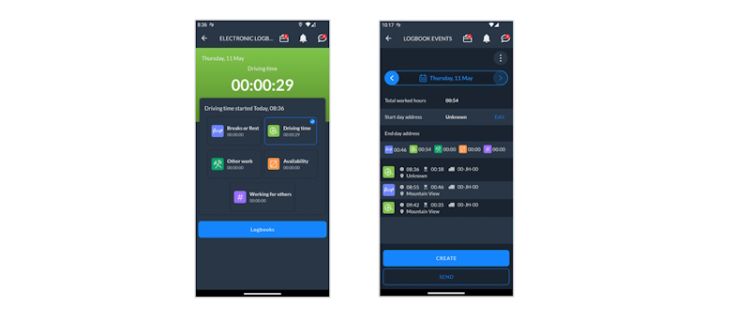 To ensure compliance with recent Portuguese legislation that mandates a tachograph or registration app for drivers without fixed working schedules, we added the Electronic Logbook module to Frotcom's Driver app!
The Electronic logbook registers working hours, driving times, and rest periods for drivers who use vehicles as working tools (for the cases where a tachograph is not mandatory), reducing unnecessary fines and ensuring regulatory compliance. Likewise, it can be helpful to companies operating in countries where tachographs are not required as an effective alternative to accurately register their drivers' working and driving times, thus making their fleets more efficient.
How does it work?
The Electronic Logbook is an intuitive user interface that lets the driver change its status manually or have it changed automatically when the app detects the vehicle has started or ended a trip. The app keeps a visible timer for each state and shows it in a comprehensive daily status. Additionally, the driver can check the history of the previous days. The fleet manager has complete access to all the activities and their duration, visible in a comprehensive report.
The Electronic Logbook module allows you to:
Register driver activities and duration complying with Portuguese regulations;
Present mandatory information of the driver, the employer, and Frotcom International, as the supplier of the solution;
Sync all recorded information with Frotcom Data Center;
Provide the Fleet Manager with full visibility and reporting of driver activities and times.
Automating the monitoring and precise registration of driver activity, the Electronic Logbook brings numerous advantages to fleet operation management. Compliance with driver hours of service legislation becomes effortless, while log management becomes simpler and errors decrease. Ultimately, embracing this solution promotes an integrated and compliant approach, optimizing overall performance and enhancing driver well-being.
Frotcom can help you comply with your drivers' working time legislation. To know more, contact a member of our team.
Post tags:
Frotcom
Driver app
Driver app features
Electronic Logbook
Fleet management
Driving times