QR Code technology is now available in Frotcom
The integration of QR code technology into Frotcom's Driver app aims to reduce selection errors and increase the speed of vehicle/asset selection by drivers.
Frotcom is constantly evolving to meet the specific needs of its customers worldwide. We have now officially integrated QR Code technology into our Driver app!
Your fleet drivers can now use QR Code technology to select the vehicle they are associated with. This technology in Frotcom helps avoid selection errors and increases the speed of vehicle/asset selection by drivers.
How does it work?
Using the Frotcom Driver app on a smartphone, drivers select the vehicles they are associated with by reading the Vehicle QR Code that contains the License Plate. They can also scan a QR code to couple or uncouple an asset (e.g., a trailer) to a vehicle.
In addition, it is possible to export multiple vehicle/asset QR Codes in a compressed file in Frotcom's web interface to generate QR codes containing a license plate. The file can then be sent to printing companies to produce QR Code stickers to be placed on vehicles/assets.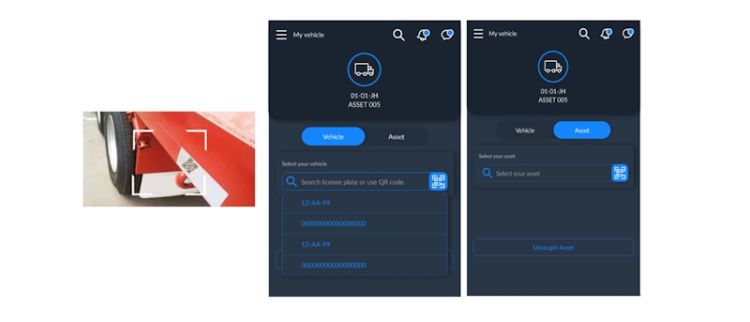 This QR technology is also present in other areas of the Frotcom Driver app, such as Forms, where text fields can be configured for QR Code reading by triggering the Smartphone camera automatically.
Try out the new QR code technology on Frotcom and enjoy all the benefits! To know more, contact a member of our team.
Post tags:
Frotcom
QR Code technology
QR Codes
Driver app
Frotcom WEB
Reduce selection errors
Vehicle selection
Asset selection
Intelligent fleets
Fleet management
Vehicle tracking