Frotcom at the Architectural Building Week in Bulgaria
Frotcom will participate in the 20th edition of the Architectural Building Week at the Inter Expo Center in Sofia (Bulgaria) from February 25 to 28, 2020.
The international exhibition will focus on sustainable business, trends in the construction industry, high technologies, new materials, and ideas for the future and counting with more than 200 companies distributed for four exhibition chambers, on 10 000 m2. Among these companies is Frotcom, with a stand located at Hall 4, a new hall opened this year for the first time at the event and dedicated to Software, Building Automation, HVAC, and Smart Systems.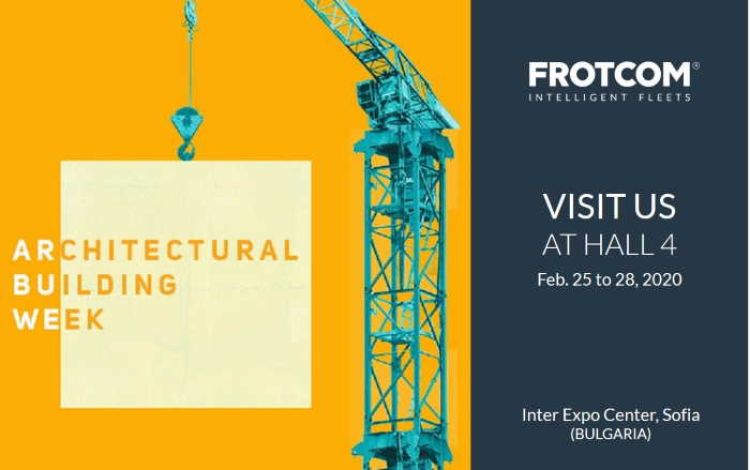 Frotcom Bulgaria's team will be available for live demos of Frotcom, to show you how the intelligent fleet management and GPS vehicle tracking software works and how your fleet can benefit from it. On February 25, from 5:15 PM to 6:00 PM, our Frotcom Bulgaria's experienced Certified Partner will be doing a presentation at the Seminar Hall, with a special focus on "How Frotcom can help your company declaring tolls in Bulgaria".
The jubilee 20th edition promises to be the largest in the last decade, witnessing an even richer and exciting accompanying program, including forums, workshops, meetings of professional organizations, and industry meetings.
If you are looking for a complete Fleet Management Solution, we invite you to visit Frotcom's stand at the Architectural Building Week.
 
Schedule a meeting with Frotcom