Frotcom brings improved fleet efficiency to Fluidi
Driving behavior analysis | Fleet management reports | GPS vehicle tracking and sensor monitoring
The more efficient use of Fluidi's 70 vehicles is the result of pioneering fleet management and vehicle tracking software.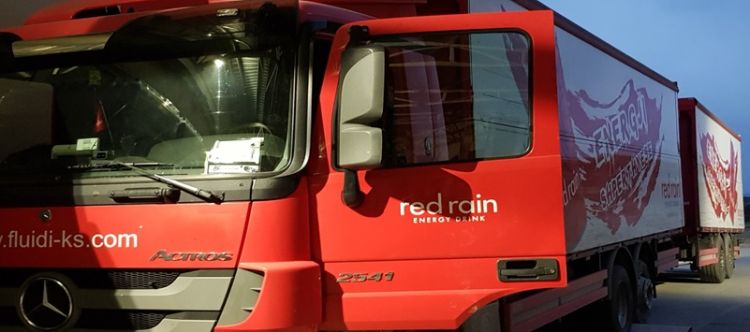 As Kosovo's largest producer of soft and carbonated drinks, Fluidi Shkp produces approximately 40 million liters of beverages annually, which are distributed in Kosovo, Switzerland, Macedonia, Albania, and recently in the United Kingdom. To maintain customer satisfaction and increase market share, Fluidi realized that the quality and variety of their products weren't enough; they also needed to ensure quick and efficient delivery.
To achieve this for their 70 vehicles, they chose to adopt Frotcom, thus reducing unnecessary expenses, which they identified as the main reason for selecting Frotcom as their fleet management and vehicle tracking system.
Client Challenges
Before adopting Frotcom, the Fluidi team couldn't track their fleet or monitor where the vehicles were, how much time they were spending on the customers' sites, or even if they were taking the quickest route.

Client Benefits
Frotcom provided instant access to real-time fleet intelligence, giving complete visibility of all fleet activity through the Frotcom interface and Frotcom mobile app, allowing Fluidi to monitor every vehicle 24/7 and so help drivers to optimize their performance.
Using Frotcom reports it is now possible to see how much time trucks spend loading or unloading at each customer site as well as having a better understanding of driver behavior, helping the company to create strategies to maximize the efficiency of the fleet.
"Driving behavior has been improved by 40%, and Frotcom is helping us to reduce idle times,…" says Mr. Shqiprim Jashari, Human Resources Manager at Fluidi SHPK, "…which ultimately improved our delivery times by 30%."
Fluidi is also able to check how performance is evolving and control both fleet and fuel costs.
The support provided by the Frotcom Kosovo team gives all the necessary insight for the company to efficiently use the software, highlighting any indicators that they need to work on.