Phanos N. Epiphaniou makes significant savings with Frotcom
Driving behavior analysis | Route planning and monitoring
EPIPHANIOU, the leading supplier of a comprehensive range of materials, including building construction materials and machinery, adopted Frotcom to control its fleet and reduce fuel costs.
Epiphaniou has been operating in the Cypriot market since 1968, and a few years ago, they took a decision that would significantly improve its fleet management.
 
Client Goals and Challenges
It all started with an automotive exhibition, where Mr. Petros Kerkides, Logistics Manager at EPIPHANIOU, had the first contact with Frotcom. "Once we saw the demo, we realized how easy it is to use Frotcom and the amount of information provided by the system that can really help us to control our fleet," said Mr. Petros Kerkides.

After a meeting and a trial period, in which Frotcom proved to be the solution to their fuel management and vehicle maintenance program needs, the GPS vehicle trackers were installed in all their vehicles, and it was possible to start using Frotcom immediately.
 
Client Benefits
Working all over Cyprus through a network of stores, distribution centers, and warehouses, the company's fleet is responsible for delivering its products to customers.
Frotcom helps Epiphaniou Group improve driving behavior, choose the best routes for deliveries, and monitor routes execution. With Frotcom and other fleet improvements, the customer mentioned a 10% fuel cost savings.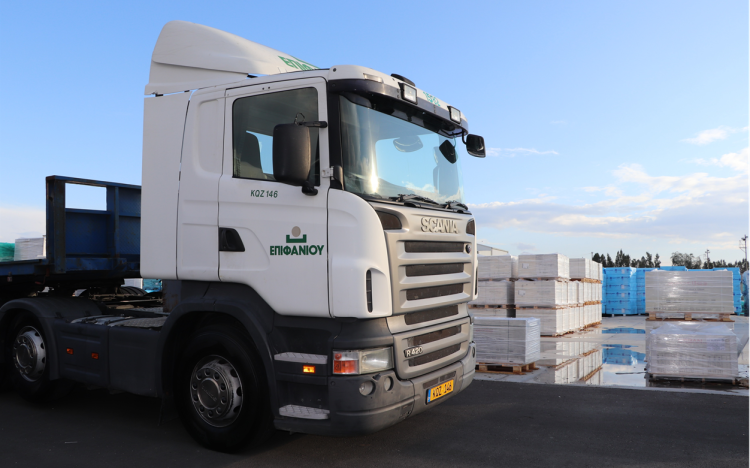 According to Mr. Petros Kerkides, Logistics Manager at EPIPHANIOU, "We first adopted the Frotcom system for purely logistics purposes. The reliability of the system led the company to extend its use to sales and after-sales services. The implementation of the general data protection regulations GDPR posed a challenge which was alleviated with the goodwill and cooperation of Frotcom Cyprus management."
He also stated that "We are very pleased with Frotcom; the continuous upgrades of the system and the quick support provided by Frotcom Cyprus are very helpful."
Mr. Kerkides also confessed that Frotcom's user operation friendliness, reliability, and quality support constitute the reasons for the ongoing cooperation.
Frotcom can help you achieve your fleet goals. If you want to receive a proposal for your fleet, contact a member of our team.