Elysée Irrigation Ltd highlights savings of around 10% with Frotcom
Frotcom was adopted by Elysée Irrigation Ltd. to measure and improve logistics and distribution performance. As a result, they also confirmed savings in vehicle maintenance and fuel consumption.

Based in Cyprus, Elysée Irrigation Ltd. is a multi-award and certificate-earning manufacturer and supplier of piping, fittings, and irrigation systems for agricultural, domestic, and public use. With clients across Europe, the Middle East, Africa, and the Far East, Japan, and New Zealand, service quality and the ability to deliver orders to their destinations, cost-effectively and on schedule, is a priority for Elysée Irrigation Ltd.
Client Goals and Challenges
With a fleet of 30 vehicles in the field, Elysée Irrigation Ltd was looking for a solution to enable their Quality Management System to measure and improve logistics and distribution performance.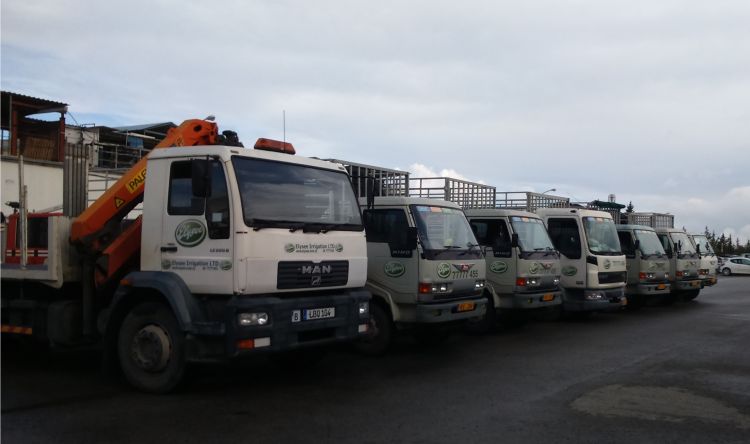 Trucks of Elysée Irrigation Ltd.
For Elysée's needs, Frotcom provided an effective and user-friendly monitoring solution, with easily available reports, no hardware approach, and continuous support and updating of the system. Though it had to respond to processes and procedures that are often hard to monitor, the ideal system had to automatically collect and collate data in a manageable and practical format, one that could be easily used to continuously improve efficiency and enhance performance. Even the particular challenge of adaptation was overcome with time and a few short weeks was all it took for the staff to become used to the demands and benefits of real-time monitoring.
Client Benefits
To assist procedure and policy execution, Elysée is now benefiting from actionable data on fleet utilization, customer visits, delivery scheduling, idle times, driving behavior and speeding control. Additionally, the implementation of Frotcom has resulted in savings in a number of areas, including vehicle maintenance and fuel consumption which are down approximately 10% since implementation. Apart from fleet management, the solution has also allowed a reduction in fleet size and helped Elysée increase the sustainability of its sales and distribution network.

According to Mr. Constantinos Tsikkos, Operations Manager at Elysée, "With Frotcom we have better overall control of our widespread fleet and we have been able to greatly reduce running costs of maintenance and fuel consumption. Objective data provided by automated reports helped us monitor operations closely and set both limits and realistic targets. After almost a year in use, we find that the system was worth the investment made."

Visit Elysée Irrigations' corporate webpage.