Autocares Julià optimizes overall efficiency with Frotcom's ERP integration
Passenger Land Transportation
API (integration with external software) | Driving times monitoring | Fuel management | Route planning and monitoring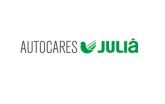 Spain's Autocares Julià had a smooth transition into Frotcom's fleet management solution, improving overall efficiency and without upsetting its business processes.
Part of the Julià Group, Cataluña-born Autocares Julià is today a leading passenger transportation company, catering to intercity, interstate, and interurban bus lines. The company serves travel agencies, tour operators, schools, conference organizers, businesses, and individual customers throughout Spain, and in recent years has seen its business expand across four continents.

Client Goals and Challenges
With over 80 years of experience, the company, and its 230 vehicles' strong fleet (120 of which now use Frotcom), pins its success on the successful management of day-to-day operations and the quality of the service it delivers. These can only be achieved through strict adherence to safety regulations, passenger comfort and satisfaction, exhaustive vehicle maintenance, the quality of its drivers, and constant innovation.
In recent years, and with repeated cycles of expansion, the company has developed a programmatic approach to innovation, which led to the opening of a public tender focused on the company's needs such as the optimization and automation of fleet management and addressed points as critical as route management, fuel cost control, and driver communication. Nevertheless, in the end, Frotcom's simple ERP integration clinched victory over its nine competitors in becoming Autocares Julià's fleet management solution provider.
 
Client Benefits
The implementation process was straightforward, with Frotcom providing training for the Autocares Julià staff in Barcelona, Madrid, and Malaga, as well as technical support for the implementation itself. ERP integration required multiple three-way meetings between representatives from Frotcom, Autocares Julià, and the ERP solution provider.
Once implemented, Frotcom translated into a complete solution, which gave Autocares Julià better management of their drivers' driving times, routes, fuel costs, and with minimal impact to boot! Thanks to the ERP integration, day-to-day operations suffered minimal impact and allowed the company to retain its business processes in place.
"The route management module, in particular, has proven a valuable asset in day-to-day fleet management operations, in particular when managing a dedicated 85-vehicle route in Spain, which provides daily transport for 6000 passengers of one of our biggest customers", said Mr. Jaume Tarrida, Deputy Director of Operations at Autocares Julià.
Visit Autocares Julià's corporate webpage.