Cusinato Renato Trasporti has better control of driving times through Frotcom
Driving behavior analysis | Driving times monitoring | Route planning and monitoring
The Italian distribution and logistics company found in Frotcom the ideal partner to help them achieve significant improvements, especially in controlling driving times.
Cusinato Renato Trasporti is based in the heart of Triveneto, Italy, and has been operating in the distribution and logistics sector for over 20 years carrying consumable goods, in particular food for major retail supermarket chains.
Its road transport services aim to meet customers' fundamental requirements: transport their most precious assets in a safe and timely way, for the right price. To do that, the Cusinato Renato team closely controls its vehicles' movements to deliver the goods as quickly as possible in compliance with safety regulations.
The company has been working alongside other large Italian companies for several years and currently is at the forefront of large-scale distribution and industrial logistics, counting 174 vehicles equipped with Frotcom.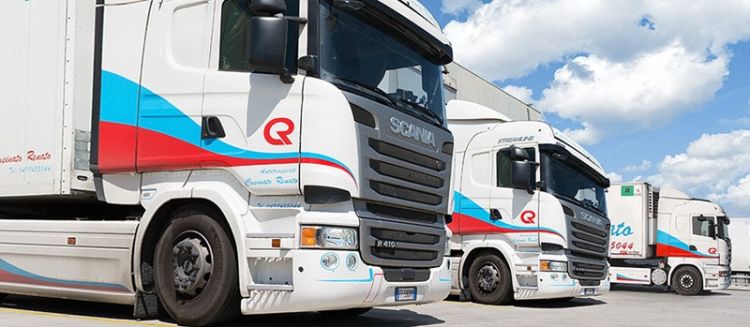 Client Goals and Challenges
After using a system that did not provide the desired results, Cusinato was looking for a safe and reliable fleet management system to help control driving times, avoid infractions, monitor its drivers' location, and at the same time, improve its fleet performance.
Frotcom was the chosen fleet management solution to overcome these challenges. 
Client Benefits
According to Cusinato, the company achieved significant benefits through the following existing features on Frotcom: GPS vehicle tracking and Driving times monitoring. The first one allowed the company to have real-time insights into its entire fleet's location. The second one helped the office staff have an in-depth view of drivers' current driving times, regular and reduced daily rest periods, breaks, etc.
Frotcom's Route planning and monitoring also helped Cusinato increase control over its vehicles as now they can monitor the execution of routes and anticipate future events. By combining these 3 Frotcom features, the company improved control over delivery times, save time, and made its customers happier. 
Driving behavior analysis also helped curb aggressive driving, reducing fuel consumption and gas emissions while reducing the risk of accidents and the vehicles' wear and tear.
Andrea Scuccato, from Cusinato Renato Trasporti, said: "Since we use Frotcom, the quality of our work is greatly improved. The system helps us save time, and our customers are much more satisfied. We worked with another fleet management system in the past, but we were not happy with the results. Frotcom proved to be a much safer and reliable partner."
Overall, with the Frotcom team's support, Cusinato Renato achieved its goals in terms of fleet management and performance while meeting its customer's needs.
If your company is facing similar challenges, contact a member of our team, and start making the most of your fleet with our fleet management software.