P&M improves Road Transport Management, Service and Performance all in one
GPS trailer and asset tracking | Driving behavior analysis | Remote cargo temperature monitoring
P&M International Road Transport implements Frotcom and experiences savings of approximately 15% in running costs and a 10 % reduction in fuel consumption.
P&M International Road Transport Ltd - part of P&M, a leading Cypriot freight forwarding and transport group - fields its own dedicated fleet of fully certified, high-spec refrigerated trailers to haul all kinds of perishable cargoes to clients across Europe.

Their specialized transport services demand consistently rising to the challenges of individual client needs and offering the highest possible quality and service solutions.
Client Goals and Challenges
P&M had a variety of complementary requirements in their brief that Frotcom needed to address. Specific issues included enhanced fleet management, delivery routing, and tracking, and GPS location, as well as remote monitoring of trailer temperature control (essential where perishables are concerned). The company was also eager to improve customer satisfaction and adjust driving behavior.
Frotcom's versatile system meant installation went smoothly, whilst the implementation team's constant support and trouble-shooting identified and ironed out potential issues as they emerged.
Client Benefits
By introducing Frotcom, P&M's operations department enhanced overall routing, control, and monitoring of their vehicle and trailer fleet. Additional benefits came in the form of savings on communications (drastically reducing driver-operations calls) and improved driver behavior (via tachograph-monitored compliance with European driving guidelines and driving hour regulations). Operations and clients both also benefited from being able to monitor thermograph readings of trailer temperature, reducing the risk of product damage whilst meeting demanding requirements and boosting customer confidence in their service standards.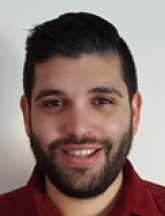 Mr. Antoniou Themis, P&M Financial Advisor and Quality Control Manager.
"After meeting with Frotcom Cyprus' General Manager, we came away convinced that we had found the partner we were looking for", says Mr. Antoniou Themis, P&M Financial Advisor, and Quality Control Manager. "We started to have a feeling of security that was absent from our transports. One of the most important things we earned back was our customers' trust. Our customers now rely on us to deliver or pick up their products on time. Additionally, they can now be confident that their product is kept at the right temperature throughout the trip; they only have to ask for the thermographs to get a holistic view."
Security in daily operations was bolstered, and superior fleet management and performance translated directly to savings of approximately 15% in running costs and a 10% reduction in fuel consumption.
Visit the webpage of P&M International Road Transport.