Sometimes the easiest way to get to know a company or service is just to look at the numbers. Here are some fast facts and figures about Frotcom.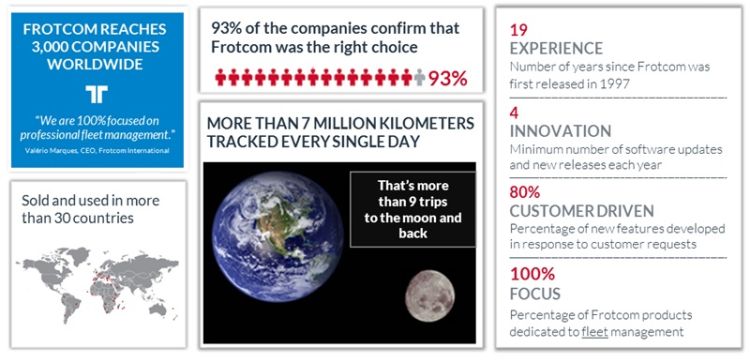 Frotcom is the solution for you:
 
Frotcom is 100% about Fleet Management
We take our mission very seriously and do not pursue other activities that would disperse our R&D.
Frotcom has been here since 1997
…and will be here for you in the future, too. We have a solid track record and will be here in the future to  support your company's needs.
We listen to you
About 80% of Frotcom's features came about from the requirements of clients just like you.
We're quickly bringing new features to you
Frotcom is upgraded with new features at least four times a year. You can rest assured that Frotcom will always be at the forefront.
Frotcom is distributed on a global scale
Frotcom is distributed worldwide by local exclusive partners with an excellent reputation for service. We think globally and act locally.
More about us.
Post tags:
Frotcom
Vehicle tracking
Fleet management
Intelligent fleets
100% focus
GPS vehicle tracking
Fleet management software