Access valuable CANBus data through Frotcom
Modern trucks operate an electronic data communication protocol called CANBus/J1939 and J1708 (used on Volvo and Renault trucks) that allows external equipment to collate specific vehicle data depending on brand and truck model. For example:
 
Rotations per minute (RPM)
Engine temperature
Total fuel consumed
Fuel tank level
Tachograph driver states
AdBlue Level
PTO (Power take-off)
Weight (Weight, First Axle, Second Axle, Trailer Axle)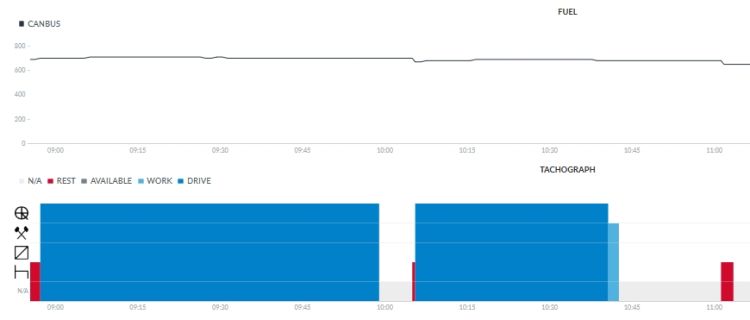 This data can be read through a special device connected to the CANBus circuit in the vehicle, then extracted in real-time and sent to the Frotcom Data Centre. For a fleet manager, this translates into valuable and reliable information that can be accessed through a computer or smartphone logged in to Frotcom.
Additionally, for trucks with a digital tachograph, CANBus data includes the current status of up to two drivers: drive, work or rest. The system will also show when a driver is about to exceed the maximum driving or working time allowed by law (valid for European countries).
For a better understanding of CANBus data, and how it can save your fleet money, you can configure alerts on Frotcom for the most relevant CANBus data. For example, you want to find out if the vehicles in your fleet are exceeding RPM values. The alert will notify you on your computer or smartphone via the Frotcom software.
You can also get detailed information about all tank fueling and usage, by configuring Frotcom to send you customized reports that will help you to enhance your fleet performance.
Your vehicles will be safer and suffer less wear, meaning lower maintenance costs and reduced downtime. In the end, you will spend a lot less on fuel for your fleet.
Find out today how Frotcom can help you evaluate CANBus data to improve your fleet's performance.
Post tags:
CANBus data
Frotcom
Intelligent fleets
Fleet management system
GPS vehicle tracking
CANBus/J1939