Road transportation: More sustainable and more digital (Part II)
In "Road Transportation: More sustainable and more digital (Part I)", we reported that due to climate change, development of new technologies, digitization of industry, logistics and the supply chain are increasing pressure for a real revolution in the distribution sector, which will affect both long-distance and urban deliveries.
What will future trends in the fields of long-distance and urban road transport look like?
Long-distance road transportation
Long-distance road transport concerns are reconsidering their energy use.
Natural gas vehicles compared to diesel can mean a reduction in CO2 emissions of between 7% and 16% and a considerable saving on fuel costs.
Electric trucks with greater autonomy can deliver a reduction in emissions of as much as 20%.
The use of freight vehicles with 6 or more axles (known as mega trucks), that increases cargo capacity by 57% (up to 52 pallets) could reduce CO2 emissions by as much as 22% and operational costs by 20%.
Platooning and other autonomous driving models currently being tested could further reduce CO2 emissions by 16% and operational costs by 10%.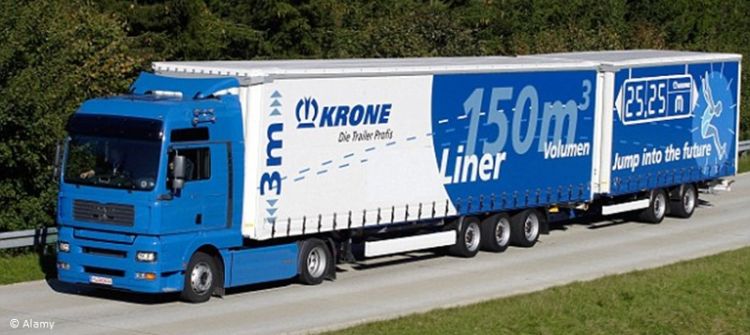 Just a few of the other long-distance transport projects for operational and environmental improvement that will make a contribution are the use of diesel engines that comply with Euro 6 standards, training drivers in efficient behaviors, reduction of vehicle weight and the use of low resistance wheels.
Urban distribution trends
Urban transport will also undergo significant changes, in many ways similar to those already described in "Road Transportation: More sustainable and more digital (Part I)" :
 
The use of electric vehicles or bicycles for small loads that are supported by warehouses exclusively for urban distribution. These modes of transport will help to reduce CO2 emissions and in the case of electric motorcycles and bicycles, will reduce congestion while re-imagining traffic conditions in urban centers.
Overnight parking of trolley trucks in city centers, which will serve as urban warehouses. UPS is already conducting pilot testing in several European cities.
Overnight delivery without assistance, avoiding daytime traffic. However, this will require that the customer entrust the keys of their house or office to the transportation company.
The adoption of crowdsourcing solutions for home delivery, tests are already in progress.
Robots for home delivery, with initiatives already being tested both in Europe and in the USA.
Transport model changes in the distribution sector and the inclusion of new technologies are a given. Intended to cut costs, respond more effectively to the demands of consumers and, above all, to respect the environment and comply with the 20% emission reduction set out in the United Nations Paris Agreement. Every player in the industry knows that the environmental transformation of the sector is essential for its future prosperity.
Post tags:
Road transportation
Platooning
Artificial intelligence
CO2 emissions
Climate change
New technologies
Logistics and Supply chain
Transportation Management System
Long-distance transport
Urban transport
United Nations Paris Agreement
Fleet management