How can geofencing save you money?
When it comes to tracking your fleet, geofencing provides excellent visibility inside a virtual fence with alerts that help you keep your fleet running smoothly.
Geofencing covers specific areas designed by you within a selected geographical area and can assume different shapes: polygon, circle or corridor.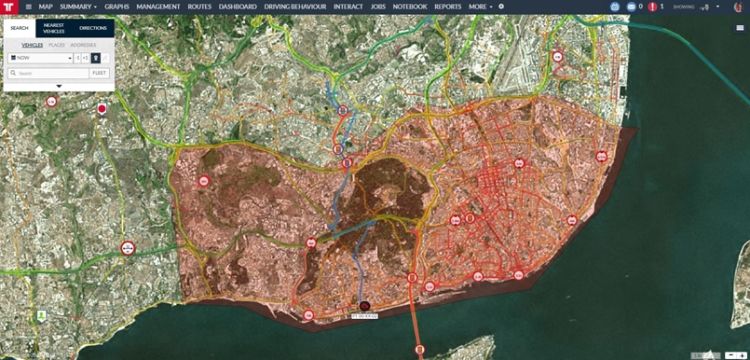 An example of a virtual perimeter marking a real geographic area
By using geofencing technology with your fleet management system, you can save money for your company:
 
Proper assets use
Inappropriate use of fleet vehicles can be verified if they exit the geofenced area. Drivers who spend much of their time outside the geofenced area or on non-customized routes may be using vehicles for personal use without authorization. Misuse of fleet vehicles can be detected if certain vehicles are regularly checked out of the geofenced area, or if they are off the custom route. Alerts received in the fleet management system help identify the misuse of company assets and avoid unauthorized fuel consumption, reducing fleet costs.
 
Greater efficiency
By tracking arrivals and departures from a place or zone, you can pinpoint inefficiencies and optimize driver time and delivery protocols. More efficient drivers mean a more efficient fleet, customer satisfaction will be improved, and you can deal with more orders from other customers. The geofencing technology also allows you to keep regular track of routes and direct your vehicles along the most optimal one, guaranteeing fuel savings.
 
Effective communication
Through a fleet management system with geofencing technology, the interaction with drivers is improved as it is no longer necessary to rely on manual confirmation when the drivers arrive/leave the defined area. Instead, you receive an automatic alert on the driver's arrival and can reference the location in real time on a map.
 
Theft prevention
Geofencing provides greater insight into fleet operations, helping you identify and prevent theft.
If you receive an alert for a vehicle leaving the geofence and you realise it's not one of your drivers, you can report it faster, which makes it easier to recover the stolen vehicle and goods.
 
Control hours and payrolls
If your drivers are paid on an hourly basis, geofencing can be a great help. You can use geofencing to create "virtual timecards," creating geofences and alerts around job sites. When the driver passes through the geofence, the system records the time, which will allow you to create accurate records and the time this saves on payroll calculation can be dedicated to other tasks.
Finally, by analyzing all the data created, fleet managers can be assured they're paying attention to the right key performance indicators.
Find out today how Frotcom can help you create geofences in your geographical map and adopt geofencing technology for the benefit of your fleet.
Post tags:
Geofencing
Polygon geofence
Circle geofence
Corridor geofence
Fleet management system
save money